Capture the spirit of Christmas with First Light
Rehearsals are now in full swing for First Ballymena Presbyterian Church's annual First Light Charity Concert on Saturday 2nd December, 7.30pm.
This year the concert is in aid of leading local cancer charity Cancer Focus Northern Ireland. Featuring a festival choir of 75 voices and supported by an instrumental ensemble of accomplished young musicians, this atmospheric evening is a wonderful way to capture the true meaning of Christmas.
Step away from the mad whirl of festive preparation to rest and reflect in the magical candlelit surroundings of First Ballymena's historic sanctuary, where songs, readings and film clips will take you on a journey back 2,000 years to the first Christmas.
Enjoy an uplifting repertoire of old favourites (like O Holy Night) and new inspirations from around the world; and, of course, it's an opportunity for you too to sing some of your favourite carols.
End your evening with delicious festive refreshments served in the church hall and a chance to chat with friends old and new.
Barbara Long, Community Fundraising Officer, Cancer Focus NI, said, "We are delighted to be the chosen charity for this magical musical evening.
"It's only because of support through events like this that we can continue to help cancer patients in Northern Ireland, fund our ground-breaking research at Queen's University Belfast and encourage the community to take steps towards a healthier lifestyle.
"I'm really looking forward to celebrate the season with Ballymena First Presbyterian, and all for a great cause."
Admission is free, with a charity collection for Cancer Focus NI.  Last year's event raised over £5,000 for a similarly good cause and the organisers are asking for your help to do it again. The event takes place at 7.30pm on Saturday 2nd December in First Ballymena Presbyterian Church, Meeting House Lane.
Please note it's not too late to join the choir – practice takes place on Thursdays at 7.30pm and Sundays at 3.30pm in First Ballymena Church Hall.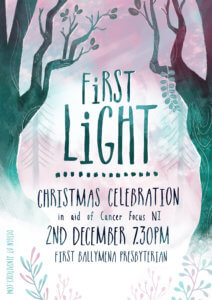 Venue
First Ballymena Presbyterian Church
Meetinghouse Lane, Ballymena, BT43 7BT
Organiser
Barbara Long
40-44 Eglantine Avenue