Cushendall to Carnlough 18th Annual Walk
Join us for the 18th Annual Cushendall to Carnlough Walk to raise vital funds for Cancer Focus Northern Ireland.
On Saturday 27th July our annual 10 mile walk will set off from Cushendall to Carnlough.
Bus will leave Carnlough Bridge at 9:15am and travel to the starting line at Car Park behind Mill Street, Cushendall. Walkers will leave at 10am and arrive to Carnlough at approximately 1:30pm.
Water stops will be provided along the way.
Light refreshments available at Glencloy Inn on arrival followed by entertainment until 5pm.
Anyone wishing to take part please contact:
Jimmy on 07801 351 523
or
call into the Glencloy Inn
**Sponsorship Forms Available from Jimmy or Glencloy Inn**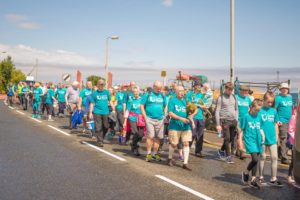 Organiser
Barbara Long
40-44 Eglantine Avenue