Our free fun FaceUp app takes you on  a comic journey using pop-up cartoons to show how you could look in 30+ years if you eat too many calories or drink too much alcohol.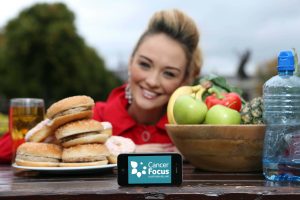 Simply take a photo of yourself, pick an older age, current alcohol and calorie intake and let FaceUp do the rest! Share your picture on Facebook and compare with your friends. Go on – let your curiosity get the better of you!
Suitable for IOS 5, IOS 4S, and various android devices
For more help on improving lifestyle choices to reduce cancer risks check out our improve your health page. For more information on our cancer prevention work in the local community call us on 028 9066 3281 or email behealthy@cancerfocusni.org.