Local woman raises awareness of womb cancer after diagnosis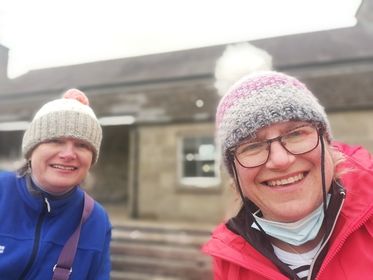 September marks Gynaecological Cancer Awareness Month.  Local woman Denise Kettyles (54) from Lisbellaw was diagnosed with endometrial cancer in January 2021 and is playing her part to raise awareness of the signs and symptoms of the disease and support available to women diagnosed from Cancer Focus NI.
Endometrial cancer also known as womb cancer, is the most commonly occurring cancer of the female reproductive system and is more common in women who have been through the menopause.
Denise visited her GP after having abnormal bleeding, "I thought it was a symptom of menopause, but after being strongly advised to by my practice nurse, I called my GP to book an appointment and I was there within 30 minutes. My nurse told me to ring the doctors if I bled after not having a period for 12 months.
"I received excellent and efficient service from the NHS from start to finish. I am so blessed that I was dealt with so quickly. In February, I went for a full hysterectomy at Altnagelvin Hospital and was made to feel so at ease. The staff were great, and I can't thank them enough for taking such good care of me."
Denise was referred to Cancer Focus NI's counselling service in South-West Acute Hospital in Enniskillen. This service takes place one to one, in a safe and non-judgemental environment with a local counsellor.
"My counsellor Helen was excellent. She helped me process so much of what I was going through. I believe going to counselling is as important as receiving surgery and medical treatment. You need to keep yourself mentally well too! Counsellors have helped me through and deal with a number of difficult times in my life."
Denise's family members – her sister Sandra, brother-in-law Alwyn and two nephews Kyle and Karl – wanted to show their support so signed up to Cancer Focus NI's 'March a Million' challenge in March. The aim of the challenge was to complete one million steps before the end of May to support local people affected by cancer, just like Denise.  In the end they raised an amazing £5,901.48 in her name.
"Karl's 10th birthday was the same date as my surgery he was so enthusiastic. He kept checking his Fit Bit to see how many steps he had done and I loved this! It really kept me going.
"I truly appreciate all the support I received from my friends, family and beyond: the donations, cards, gifts, best wishes, prayers. I feel so blessed & thankful."
Cancer Focus NI fundraiser Rosie Forsythe said, "It's only because of the support we receive from people like Denise's family and friends that we can continue to support local people affected by cancer when they need it the most – especially during this past year and a half. The funds raised by this big-hearted family and circle of friends will be used to provide support to those affected by cancer in the local Fermanagh area and as well as our other services including ground-breaking research which continues at Queen's University, right here in Northern Ireland."
Denise is passionate about going to your GP if something doesn't feel right and to not assume it is a reaction to menopause. "Thankfully I didn't wait until my smear test scheduled for 2024 to find out if what was happening was normal. I am so glad I rang my GP when I did. Please, if you have any concerns contact your GP immediately."
Cancer Focus NI's Health Improvement Manager Naomi Thompson said: "If you have postmenopausal vaginal bleeding or notice a change in the normal pattern of your period such as heavier periods or bleeding between periods, you should visit your GP. However, only 1 in 10 cases of unusual vaginal bleeding after the menopause are caused by womb cancer, so it's unlikely your symptoms will be caused by this condition.
"Whatever age you are, if you have unusual vaginal bleeding, it's important to get the cause of your symptoms investigated."
If you have been affected by cancer find out more about how we can help at www.cancerfocusni.org.
If you would like to support the Enniskillen Cancer Focus NI fundraising group please contact fundraising@cancerfocusni.org