Stephanie urges women to get smear tests
Cancer Focus NI – celebrating its 50th year – marks half a century of helping people affected by cancer in Northern Ireland.
To help highlight this special anniversary, cancer survivor Stephanie McKervill (31) spells out how much Cancer Focus NI has done for her. She is a member of the Cancer Focus NI/Crescent Arts Centre Sing for Life choir and has attended the charity's Wellbeing weekend at Corrymeela.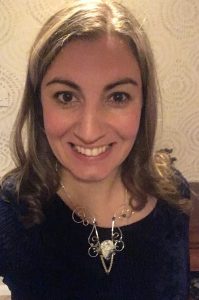 Stephanie, who lives in Belfast, was diagnosed with cervical cancer in October 2017. As part of Cervical Cancer awareness Month in February, she is also encouraging women to go for their smear tests regularly.
A Project Development Officer, Stephanie said: "I'd received a few letters calling me for a smear but because I was a touring actor in England at the time, and I didn't have any signs or symptoms, doctor's appointments weren't a priority.
"When I eventually had the test done, the results showed there were abnormal cells and I was called in for a colposcopy, which confirmed it. I was offered a LLETZ procedure on the spot, where they removed tissue for testing and treated some precancerous changes of the cervix.
"About a week later I got a call to go to hospital as soon as possible when I was told they had found a tumour and I had Stage 1 cervical cancer," she explained.
"I knew they weren't calling me back for nothing. But still, it was a really big shock, I was devastated and found it really hard to process."
She continued: "The surgeon removed the majority of my cervix but he knew I wanted to have children. I can still have children if I want but there will be risks and I will have to be carefully monitored."
"I am feeling good, feeling healthy and in a good place emotionally. I know how lucky I am that I don't have to have any further treatment.
"At the time I didn't realise the stress I was under – I was in this in between land. On one hand you are so lucky. They have found everything and it was getting sorted. At the same time you never think it will be you. And it was awful. A horrible experience, just devastating. I found myself switching between emotions. I'd been brushing it off, thinking I'm fine, but I really wasn't," she admitted.
"I wasn't until I went to the Cancer Focus NI wellbeing weekend at Corrymeela that I spoke to other people about it.
"I was one of the youngest there and spoke to lots of different women who had different stages of cancer and types. It was really reassuring to speak to them about their experiences, how they reacted, absorbed the diagnosis and information and dealt with it," she said.
"I'd been positive but it takes a long time to get over. Speaking to other people is just so important. Having the opportunity to do different workshops looking at everything from diet to how to relax was great. I did a film making workshop where I was able to talk candidly about cancer with other women there. It was great to make a connection with people who have been through something similar."
Stephanie then started going to the Cancer Focus NI/Crescent Arts Centre Sing for Life choir.
"I really love it, it's so comforting to meet people in a similar situation. Now when I have questions or need a bit of support I don't have to go traipsing to my doctor. It's fantastic. And of course I enjoy it.
"If I hadn't come across Cancer Focus NI to have those conversations, I would probably be in a different position emotionally now.
"I try to be open about my experience with cervical cancer and encourage my friends to go for regular smear tests, I want them to look after themselves. I didn't look after myself as well as I should have and I want everyone to learn from that."
Anyone who has any concerns about cancer can call the Cancer Focus Ni NurseLine on 0800 783 3339.
To find out about the charity's Cheers to 50 Years campaign, go to www.cancerfocusni.org/celebrate.