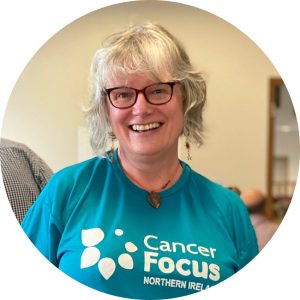 "In January 2021, my ringing mobile woke me from a lovely dream. The person on the other end instructed me to go to see my gynaecologist that afternoon. I knew immediately that something was wrong."
"Having originally visited my GP with what I thought was the start of menopause, it was a shock to be told that I had endometrial cancer. At South West Acute Hospital, I was given so much information about early diagnosis, Grade 1, and talk of a hysterectomy. I felt overwhelmed, as I never expected this to happen to me.
Thankfully, my treatment moved quickly, and I was looked after so well by the NHS. I tried to be positive during this time, for myself and my loved ones; I knew my family & friends would be concerned about my mental wellbeing.
I have always been a deep thinker and a born worrier. Living in rural Fermanagh, travelling miles for appointments, and not having a professional cancer support network around me when I was plagued with the 'What's wrong with me?' question, did make things difficult.
Luckily, Cancer Focus Northern Ireland arrived in my life at the right time. The charity's Enniskillen fundraising group had first told me about the counselling support provided by the charity. Thanks to Helen, the most wonderful counsellor, I began to develop the skills needed to control and understand my thoughts and feelings. While I was not depressed during this time, I knew that I had issues with anxiety.
By talking to a neutral person, I could focus on keeping my mental health right, while I recovered from a devastating period in my life.
This is why I am delighted to learn that this and other services will soon be located at Cancer Focus NI's first Support Centre opening in Enniskillen. To know that people living with cancer and their families will have a sanctuary to visit during the worst time of their lives is simply wonderful. I believe that it will be particularly beneficial to those who cannot drive, don't have a car, or are going through the cancer journey alone or in secret. Months after my surgery, I had things going on in my body but had nowhere to go to talk to an expert. This new facility would have made such a difference to my recovery.
My life is now where it should be. I'm working part-time, spending quality time with my family and friends, attending classes to learn new skills, and my health is good. I have lots of future plans and have recently become a volunteer for Cancer Focus NI. I want to give back to the charity that has done so much for me and my family. I cannot wait for this new Support Centre to open in my local community and would like to thank everyone who will support it and make it a success for years to come."