Jan Hall, from Belfast, has had an extremely tough time. She's had cancer four times over the years but it was her last diagnosis of breast cancer in 2013, which led to a mastectomy, that she found the most devastating of all.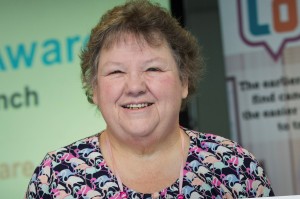 Jan says:
"My breast care nurse was on the ball and quickly picked up that I was in a dark place – the surgery had left me feeling mutilated and worthless. She suggested counselling and put me in touch with Cancer Focus NI.
"Visiting the counsellor was nerve-racking, which I kept from my family and friends. I thought that having counselling was a bad thing, showing signs of weakness in me. I always thought you had to be strong and go with the punches life throws at you.
"Working with the Cancer Focus NI counsellor, I discovered life is not supposed to be like that. She introduced me to my inner self, which for 61 years had been buried, hiding my true self. 
"At the end of my counselling, instead of looking in the mirror and seeing disfigurement and distaste, I can now see a whole person who, like most people, has her faults, bad hair days and down times, But now I have a mechanism to explore my feelings on paper, I can express myself to others and finally let go of the past, which has been like a sack of hardcore holding me back.
"This service has truly given me more than the operations – it has given me the tools to live on. I'd gone along with a broken heart and the Cancer Focus NI counsellor helped me put it back together again. She treated me like an individual, her support helped me to become empowered, adopt a different outlook and build my life up once again."
For more information about our counselling service call us on 028 9066 3281 or email care@cancerfocusni.org.