Skin cancer is the most common cancer in Northern Ireland. Around 4,210 people develop skin cancer each year (both melanoma and non-melanoma), accounting for over 31% of all cancers diagnosed here.
Alongside the Public Health Agency, Cancer Focus NI works to reduce skin cancer and resulting deaths in Northern Ireland by implementing the Department of Health's 10-year Skin Cancer Prevention Strategy and Action Plan. More information is available at www.careinthesun.org .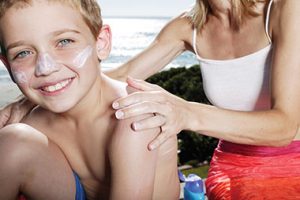 Alarmingly, over a 25 year period since the mid-1980s, the number of cases of malignant melanoma, the most aggressive form of skin cancer, has almost trebled.  Melanoma is most common over the age of 50 years but a significant number of people between 15 and 49 are also affected.
Research shows that 40-50% of people in Northern Ireland do not apply sunscreen at home when sunbathing or while outdoors. UV awareness is important – you don't need to be sunbathing to get skin cancer; it's over-exposure to ultraviolet radiation (UVR) from the sun or sunbeds which can cause serious damage over time. It's important for everyone to avoid getting sunburned, particularly children.
Our top UV safety tips are:
Seek shade and avoid prolonged exposure from 11am to 3pm
Wear clothing and hats that protect against UVR
Use sunscreen with a minimum SPF of 15 plus UVA 4-star and apply liberally at least 30 mins before going outdoors
Avoid sunbeds
Check out our Be UV Aware video…
These sun awareness measures are essential, even in our milder local weather.
For more details contact us on 028 9066 3281 or email behealthy@cancerfocusni.org
Check out the Care in the Sun website here.
For more information on protecting your skin see the information here.
Check out Mike Moran's personal story of skin cancer here.