There are children in Northern Ireland who have been left without a much-loved parent or family member because of cancer. Please help us support them.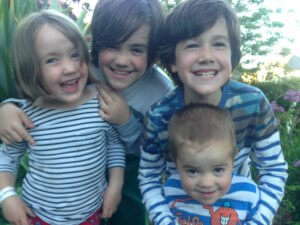 To put it simply, without Cancer Focus Northern Ireland's Family Support Service, inspirational Sinead Farry and her four children – John (12), James (10), Una (7) and Henry (4) – would have struggled to get through the past three years since their husband and daddy died in August 2013.
In fact, as you read this, our Family Support officers are out in the community supporting many local families who are left devastated by cancer.
"Hello, my name is Sinead. My husband, Gareth, died in August 2013 – 13 months after being diagnosed with salivary gland cancer. Gareth had a lump on his neck for many years but in July 2012 it was causing him discomfort so he visited his doctor who diagnosed cancer. The diagnosis rocked our world – we had just been blessed with our fourth child, Henry, and we tried to keep things at home as normal as we could for our other three children.
"Gareth had surgery in September 2012 to remove the tumour but in February 2013, he started getting bad headaches and in April the scans showed that the cancer had spread to his lungs, liver and brain. We went into shock as the news was incredibly hard to deal with – we felt that the floor went from under us. Four months later, Gareth sadly died.
"During those final months, I got in touch with Cancer Focus NI and was introduced to the Family Support Service which has supported my family through the worst of times. My children and I have found the service invaluable.
"Rachel, the Family Support Service Co-ordinator, came out to our home to speak with the children to help them understand why their Daddy had cancer; she helped take the fear away and spent time on a one to one basis ensuring the kids knew they were not alone.
"I found that one of the most beneficial parts of the service for my children was Children's Lives Include Moments of Bravery (CLIMB). My son John, who is now 12 years old, benefitted greatly from the six week programme that helps children understand cancer through art, craft and play.
"The activities helped John talk in an informal environment about any fears he had, how much he misses his daddy and gave him the chance to meet other children in similar situations. Importantly, it was at these sessions that the children realised that there were other kids going through the same thing.
"Personally, I reached a feeling of steadiness and belief because of the Family Support Service. When my world was falling apart, Rachel gave me the strength to say – I can do this with the kids. We'll carry on going to the Family Support evenings, they help me feel that everything is going to be OK. It's such a wonderful service."