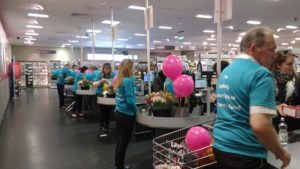 We want to do our best for local people affected by cancer and ensure our vital work continues.
You can help us by giving just a few hours to any of the activities listed below and we'll make sure you're well looked after and enjoy your time with Cancer Focus NI.
Contact Morag or Sam on 028 9066 3281 or at volunteer@cancerfocusni.org
BELFAST CITY MARATHON – SUNDAY 3RD MAY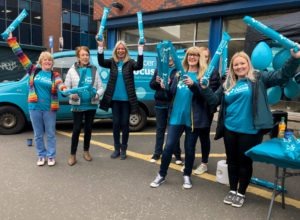 Join the Cancer Focus NI team at the fantastic event and take in all the atmosphere at our cheer stations and water stations or at the charity village.
We need lots of support and there's no doubt you'll enjoy the craic!
BIG BUCKET COLLECTIONS – Saturday 27th June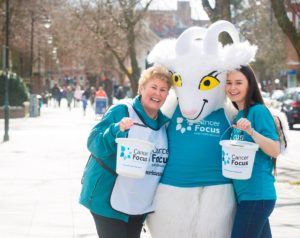 As a local charity we depend on donations to maintain our vital work. You can help us for just a few hours – in a town near you – to make sure we raise the money needed to continue funding our research, cancer prevention programmes and care services.
STRICTLY COME DANCING FUNDRAISER – Friday 27th March
Come along to the Stormont Buildings, Belfast and help us take tickets, sell raffles and look after our dancing participants and the audience.
You'll have a great time and get to watch the dancing
A-MAZ-INGG!
OR WHAT ABOUT ……
Making Sun Care Bracelets
for our Care in the Sun Programme.
These are used to help children understand the dangers of too much sun and learn to protect their skin. We give them out at community and schools events throughout the spring and summer.
You can make the bracelets in the Cancer Focus NI building, at home, or as part of a team in your work or community.
2.
Update Databases
in the Cancer Focus NI building in Eglantine Ave.
It's vital for us to ensure we are up to date with a whole network of contacts across Northern Ireland and you can help us do that with just a few hours a week.
Come and be part of our team – have a bit of craic and make friends.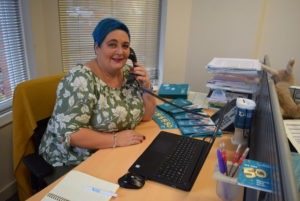 Gardening
Or if you prefer something in the open air why not help us keep the building looking it's best.
Our flower beds in front of the building, and courtyard to the rear, help create a warm and welcoming appearance for service users coming in to the building and need regular care.
All you need is a few hours to spare each month.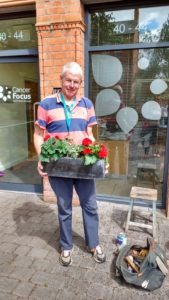 For more information on any of the above just give Morag or Sam a call on 028 9066 3281 or email at volunteer@cancerfocusni.org