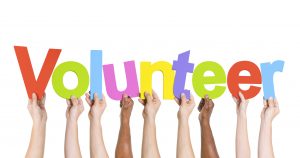 Here at Cancer Focus NI we are supported by an amazing team of volunteers who work away behind the scenes and give us their time, experience and expertise to help local people and communities affected by cancer.
Our 350 volunteers give us  20,000 hours of their time  every year to help in all sorts of ways  – in our charity shops, at health events, with our care services and cancer prevention work, in fundraising and general administration – and they are as much a part of the team as our staff. We are hugely proud of our volunteer team – they have a massive impact on what Cancer Focus NI can achieve.
Not sure how you can help?
Then join us at any of our street collections or bag packs.
Cancer Focus NI is dependent on public donations so every £1 collected helps maintain our vital care services and education services.
£15 pays for someone affected by cancer to attend a creative therapy session.
£25 pays for a counselling session.
£100 pays for 6 weeks support for a bereaved child.
You can make a positive difference to a family affected by cancer with just a few hours of your time.
Who can volunteer?
We can never have too many volunteers! Anyone can volunteer with us – students, people between jobs who want to broaden their skills, retired people who have a wealth of life skills to offer, and everyone in between.
You don't need specific skills or qualifications – the most important requirements are enthusiasm, a desire to support our work and some free time.  You'll be joining a dedicated team of people making a difference to the lives of thousands of people in Northern Ireland.
How much time do I need to offer?
It's up to you and depends on what you would like to do.  Many of our volunteering roles are flexible and we're happy to discuss with you how much you want to be involved.
Our volunteers help for lots of different reasons. They say:
I like the discipline, it brings me back to work days. I was getting lethargic, losing my organisational and computer skills
To give something back to the community
I wanted to help people with cancer as a number of family members have had cancer
I wanted to improve my skills and get work experience
I wanted to do something meaningful that would make a difference
I wanted to help make people's lives better
For more information, please contact Morag Chambers on 028 9066 3281 or email moragchambers@cancerfocusni.org. Alternatively fill in the below enquiry form and we'll be in touch with you shortly.