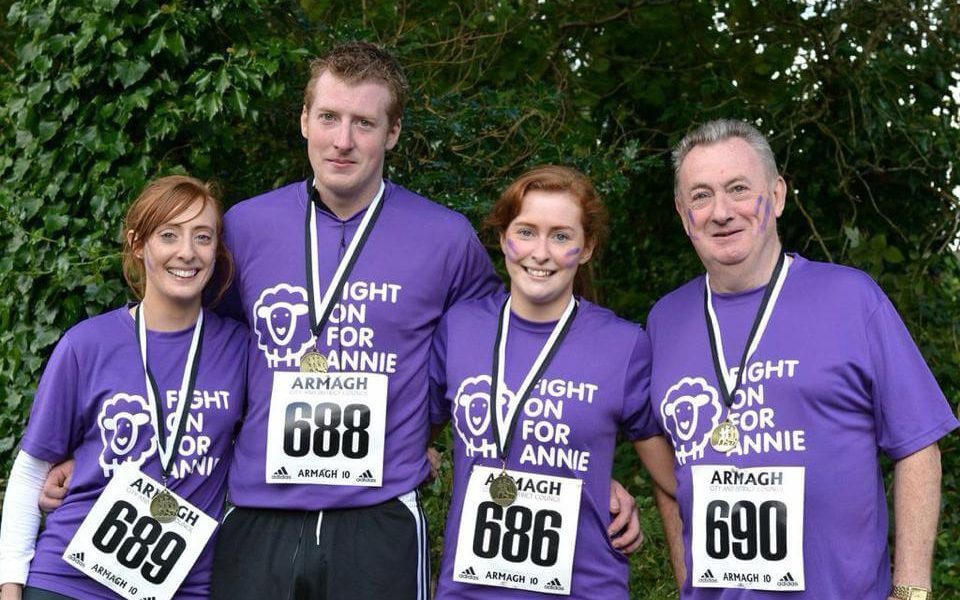 Armagh family step up for pancreatic cancer month
Young Armagh woman Grainne O'Neill is pulling out all the stops to raise awareness of pancreatic cancer in memory of her mother Anne who lost her battle with the disease over two years ago in 2014.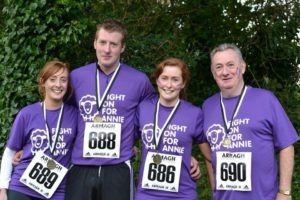 Grainne has raised an impressive £40,000 for charities like Cancer Focus Northern Ireland who work with patients with cancer.
During November, Pancreatic Awareness Month, she is asking shops in Armagh to turn purple to help raise awareness of the disease.
"People know their own bodies. Pancreatic cancer can be misdiagnosed as reflux, IBS or kidney infection but you have to be persistent. If you think there is something wrong, keep going back to your doctor. Early diagnosis saves lives." Grainne urged.
Cancer Focus NI also has a dedicated free Nurseline which anyone can ring if they need advice or information about any kind of cancer – just call 0800 783 3339.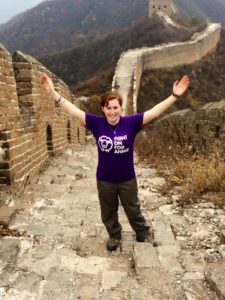 After Anne passed away Grainne (23), her dad Tom, sister Sinead (28) and brother Fergal (27) set up a fund called Fight on for Annie.
"Mummy didn't really have any symptoms, she thought she was getting the flu – she was aching everywhere and felt really sore, along with a pain in her side. This was in June 2013," Grainne recalled.
"Mummy was never one to go to the doctor but because I was going to America for the summer that week I persuaded her to go to the doctor. Blood was detected in her urine and she was sent home with antibiotics for a supposed kidney infection."
After a few weeks she was still not better and was sent for more tests which eventually revealed she had a tumour in her pancreas.
"At the start of August she was given the horrendous news that it was pancreatic cancer. The cancer had also spread to her liver and lungs. It was such a shock, it's such an aggressive disease. She was only 53 at the time," Grainne added.
"It was devastating. We never expected that apparent flu symptoms could turn out to be cancer or that the disease could be so progressive."
Although the prognosis was grim, Grainne urged her much-loved mum to try chemo.
"She had a few cycles but it was taking a lot out of her so she stopped just before Christmas so she could enjoy it with us all.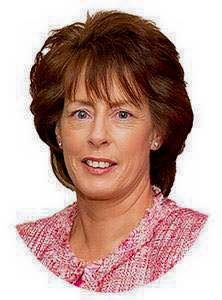 "We had a lovely Christmas and New Year. Then in January Mummy went for a scan which showed the chemo hadn't worked and the cancer had spread to her spine. We were devastated," she said.
"A few days later she went into hospital and never got out again, she died on January 30, 2014, seven months after diagnosis."
Grainne added: "Mummy was the most bubbly, loving person. She put everyone's needs before her own and her family were always her priority. She was adored by everyone.
"She lost her own mum when she was 20 and knew what it would be like for us. She was so strong for us and for my daddy and she'll always be in our hearts and minds.
"Our fund is our way of turning our heartache of losing our precious mummy into a positive driving force that will see a change for pancreatic cancer patients."
Symptoms of pancreatic cancer
The most common types of cancer of the pancreas are exocrine tumours. The symptoms vary depending on where the cancer is in your pancreas – in the head, body or tail. Common symptoms include
Other possible symptoms of pancreatic cancer include:
nausea and vomiting
bowel changes
fever and shivering
indigestion
blood clots
Symptoms can be vague but see your GP if you are at all worried.
If you have any concerns about cancer call the free Cancer Focus NI Nurseline and speak to a cancer nurse on 0800 783 3339.
                                                   -ends-