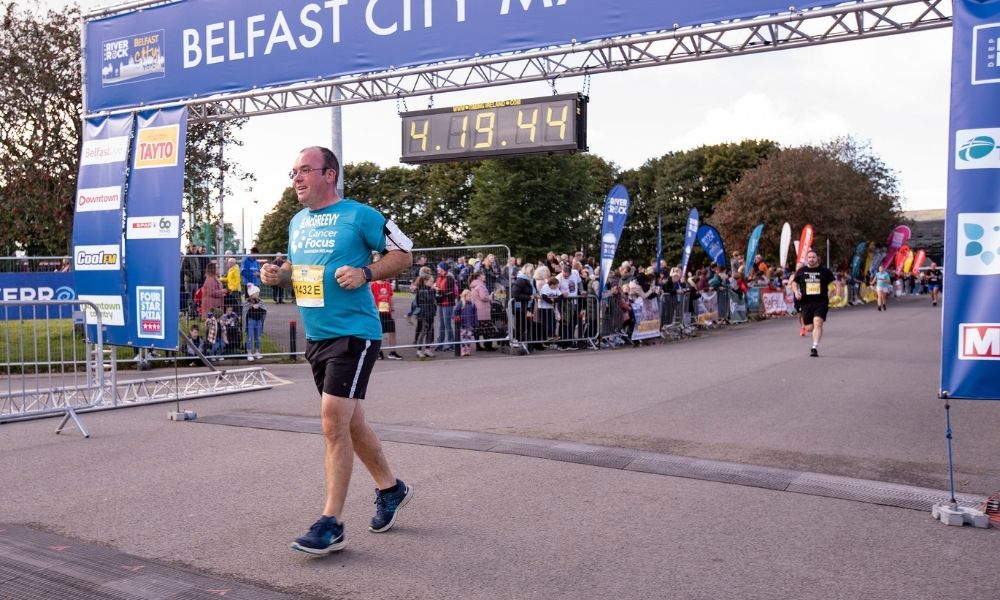 Gareth McGreevy quit smoking using our free Stop Smoking Service and ran the Belfast City Marathon 3 weeks later! 
Local Dromore man, Gareth McGreevy signed up to Cancer Focus Northern Ireland's Stop Smoking Service when it was offered at his workplace, Northstone Materials, late last year. In October 2021, he ran a leg of the Belfast City Marathon relay event alongside his colleagues only three weeks after quitting – something he wasn't sure he'd ever be able to do.
Ex-smoker Gareth said: "As a smoker for almost 20 years, with some unsuccessful attempts under my belt, my final quit attempt had been a while coming.
"When I became a father six years ago, I knew I had to quit but never plucked up the courage on my own.  Thankfully my employer Northstone Materials teamed up with Cancer Focus NI as its Charity of Choice, and through our Wellbeing Team within Northstone, I was offered and accepted the support that it took me to finally quit. I had now taken the first step.
 
"I was put in contact with Cancer Focus NI Stop Smoking specialist Bernie, who with her wealth of knowledge and experience, started me on the road to quitting. 
"Because of Covid restrictions most of our contact was via video and phone calls, but Bernie still made the experience personal. She was able to understand my smoking habits and gave me simple and reassuring advice on how to take steps to quit and things to do before my last cigarette.
   
"I felt reassured that I could do it and knew that if I needed to, I could contact the Stop Smoking team who would keep me right. As my journey with Bernie began I knew it was the right time for me.  
"I was looking for goals to try and achieve and keep myself focused, when Northstone's Wellbeing Team proposed the idea of a team running the Belfast Marathon Relay Event. Now what better goal could I have than RUNNING 5.3 miles in a team event!
 
"The training started three weeks before the marathon which was also the same week I had my last cigarette. My first run, only a very short distance, was extremely difficult. My issue was with my breathing. I just couldn't get enough oxygen.  
"I had been expecting sore muscles and sore legs, but what I got was a sore and tight chest, and difficulty breathing. I thought I had bitten off more than I could chew, but I kept up with my training plan and continued to run a little bit further, then a little bit faster each time. Lo and behold, eventually it was just the sore muscles and sore legs I got!
On 3rd October, Gareth along with four other Northstone colleagues ran the Belfast City Marathon for Cancer Focus NI.   
 "It was such a fantastic feeling running the marathon relay event! And now we've set ourselves another goal – the same next year but this time slightly faster! 
 
"I was and still am amazed at how quick after stopping smoking my breathing and chest improved in general, never mind when exerting myself through exercise.  I can't express enough thanks to Bernie and the team for helping me stop what I thought was an impossible habit. But with the proper support and advice, believe me, it is possible."