Iain cycles FROG in memory of mum
Iain Taylor (45), from Glenravel, got involved with FROG 13 years ago after his mum Elizabeth sadly died from cancer.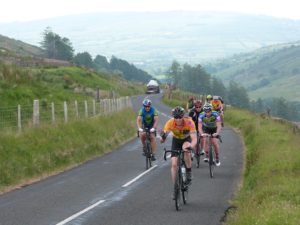 "My mum was only just retired and was caring for my dad who had Parkinson's. She had been a nurse practically all her life. She probably didn't take the same care of her own health. We found out she had adrenal gland cancer and she passed away within two weeks, which was very hard.
"We didn't have the opportunity to let it sink in. I stayed with her until she passed away. I wasn't in a very good place at the time with grief. But the organiser of FROG Paul McToal kept trying to persuade me to take part in the event. Eventually I thought why wouldn't I do it in memory of my mum," said Iain, a solutions engineer for a software company.
"If I can do anything at all to help Cancer Focus NI raise awareness and raise money for its great services then I am more than happy to do that."
Iain added: "I've always been sporty but hadn't cycled since I was a child. Five or six weeks before FROG I went out on the bike with Paul and we covered 34 miles. I had to get a lift back home. I was a little bit annoyed with myself. I wanted to do the 50 miles.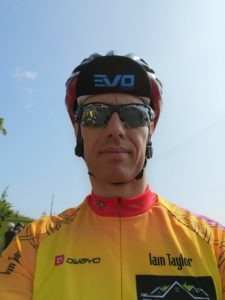 "A few days later I went out and did 50 – I can be a little bit stubborn when I set my mind to something like that," he laughed. "Then I thought that wouldn't be a challenge so I got back on the bike and did the 100 mile FROG circuit that year.
"As well as cycling up to 150 miles a week, I now do triathlon events too. It was a natural progression.
"Since the start of FROG I've been pushing my sponsorship as much as possible and help Paul as much as I can. I must have raised over £6,000 over the years.
"I don't think I have missed a year yet, even after recovering from an ankle operation in 2017, I 'just' got the all clear from the consultant that I could cycle as long as I didn't 'clip in'", he said.
"FROG has just grown and grown from the first years and now attracts about 500 cyclists. This is the second year that runners have taken part, they run a separate route. We'd love it to become even bigger and better. It's a fantastic day out and I'd recommend it to anyone, so please come along and give it a try whether you're a runner or a cyclist.
"Cancer Focus NI does so much good work supporting people with cancer and their families, it's very involved with cancer prevention in the community and funds vital research at Queen's University, so it's an excellent charity to support. We'd love to have you on board."