Lisa fundraises for her cool Arctic Trek
Newtownabbey woman Lisa Montgomery and her sister Lara Thompson (right) are taking part in the Cancer Focus NI Arctic Trek challenge to raise funds for the charity after their family was badly affected by the disease.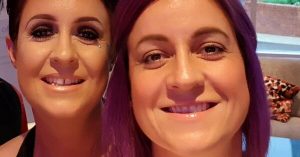 Dad James Thompson had first been diagnosed with prostate cancer almost two decades ago in his early 50s. Sadly, in 2014, it spread to his bones and at the end of 2016 to his brain and he passed away last July. Around the same time that their dad found out his condition was terminal, their mum Rosamund was diagnosed with breast cancer. After chemotherapy and radiotherapy she had to have her left breast removed.
Now, two of their daughters are taking on the Arctic Trek in northern Sweden to raise money for Cancer Focus NI who supported the family throughout that traumatic time.
Lisa, from Newtownabbey, said the obstacles and challenge they would face would be nothing compared to what their parents had been through. "Throughout my mum's illness and after dad passed away Cancer Focus NI were a fantastic support," said Lisa.
Father figure
"Lara's son was so close to my dad, he was like a father figure. He used the Cancer Focus NI family support service and they were so supportive with him.
"The charity was great for the whole family. When mum was going through breast cancer they brought her in and treated her with such dignity. They gave her so much advice with things that seem simple like picking a bra, but when you've had a breast removed it's not simple.
"My mother in law also passed away from cancer so our family has been heavily affected over the past few years."
Lara also took part in the Cancer Focus NI Strictly Come Dancing fundraiser to help raise money for the charity. And another nephew is taking part in the kids' version of Strictly. "Cancer Focus NI has been so helpful to my mum and nephew, I think it's Kept to give something back," said Lisa.
"The Arctic Trek means I will be going into the unknown, somewhere cold and harsh were you have to depend on the people around you for support.  We are going to be trying to survive for eight days in the middle of nowhere. Someone going into cancer knows how that feels so this challenge had a special resonance with us.
"Lara and I aren't very fit and it will be very physically, mentally and emotionally challenging, but not nearly as daunting as someone going through cancer."
Lisa added: "Dad used to be involved in the Duke of Edinburgh award and loved hiking. He would have been all over this, giving us advice and telling us what gear we need to buy. He'd be so excited.
"The whole way through his illness he was laughing and carrying on. This trek is going to be a walk in the park compared to what cancer patients go through.
Kept on smiling
"Watching how my dad kept a smile on his face throughout the last months of his life and how mum recovered from breast cancer, that was our inspiration to go and do this. We're really looking forward to it, it'll be a real adventure."
The sisters will spend eight days in Sweden, 150km south of the Arctic Circle. This once in a lifetime challenge combines your ability to adapt to and live in the heart of this environment and satisfy your survival instinct, as well as experience tranquillity and relaxation under the stars of the Arctic.
During the trek, from March 31, to April 7, 2019, the group will take part in husky driving, ice fishing, fire lighting, shelter and snow hole building, and skiing – to name but a few.
If you'd like to make a donation visit https://www.justgiving.com/fundraising/lisa-montgomery4