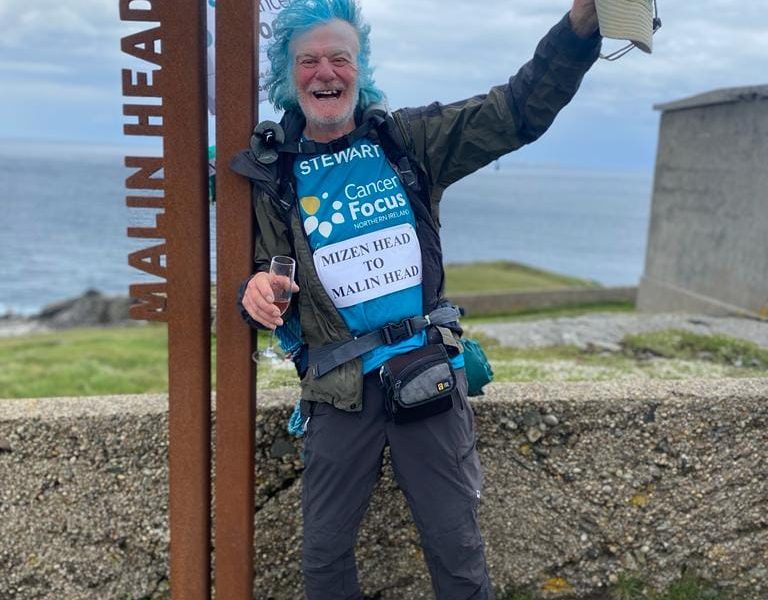 Local Lisburn man walks the length of Ireland to support Cancer Focus NI
Stewart Barbour (69), a long time supporter and fundraiser for Cancer Focus NI, took on his greatest challenge yet with a walk from Mizen Head, Cork to Malin Head, Donegal the most southern and northern points of Ireland. Covering an impressive 330 miles, Stewart was averaging at 24 to 27 miles per day and although it was a tough journey, Stewart's optimism never wavered.  
Stewart said, "My goal was to complete a marathon a day, I had no care team and no plan of where I was even going to sleep each night, so I put enough essentials in my backpack that I could pitch a tent where I needed to and took the long journey one day at a time." 
It wasn't just about covering the miles for Stewart, but getting into the local towns and villages to meet and talk to the locals, raising awareness of Cancer Focus NI, and thanking them for any support or donations.  
Stewart continued: "I didn't do the direct route, so even though it was a longer journey it meant that I was visiting places where I would meet people- in the hope they would donate, and of course, they did. The generosity of the public and people I encountered along the way was completely incredible, not only where they generous with their donations, but they also fed me, gave me water and often times a place to lie my head or pitch my tent." 
Cancer Focus NI is an organisation that is extremely close to Stewart's heart, and he has been actively involved with the organisation since his wife was diagnosed with cancer six years ago. 
"I think they are a fantastic charity, and along with being very good to my wife, I have always been struck by how many amazing services they offer to people on their cancer journey including their family and carers. They also fund innovative local cancer research at Queen's University and most of their funding comes from donations, so that's why I am here, doing what I can to make a difference. It's not about the applause, it's about the cause." Stewart beamed.  
With an overall fundraising goal of £14,706 and no signs of stopping, Cancer Focus are absolutely delighted to work with Stewart.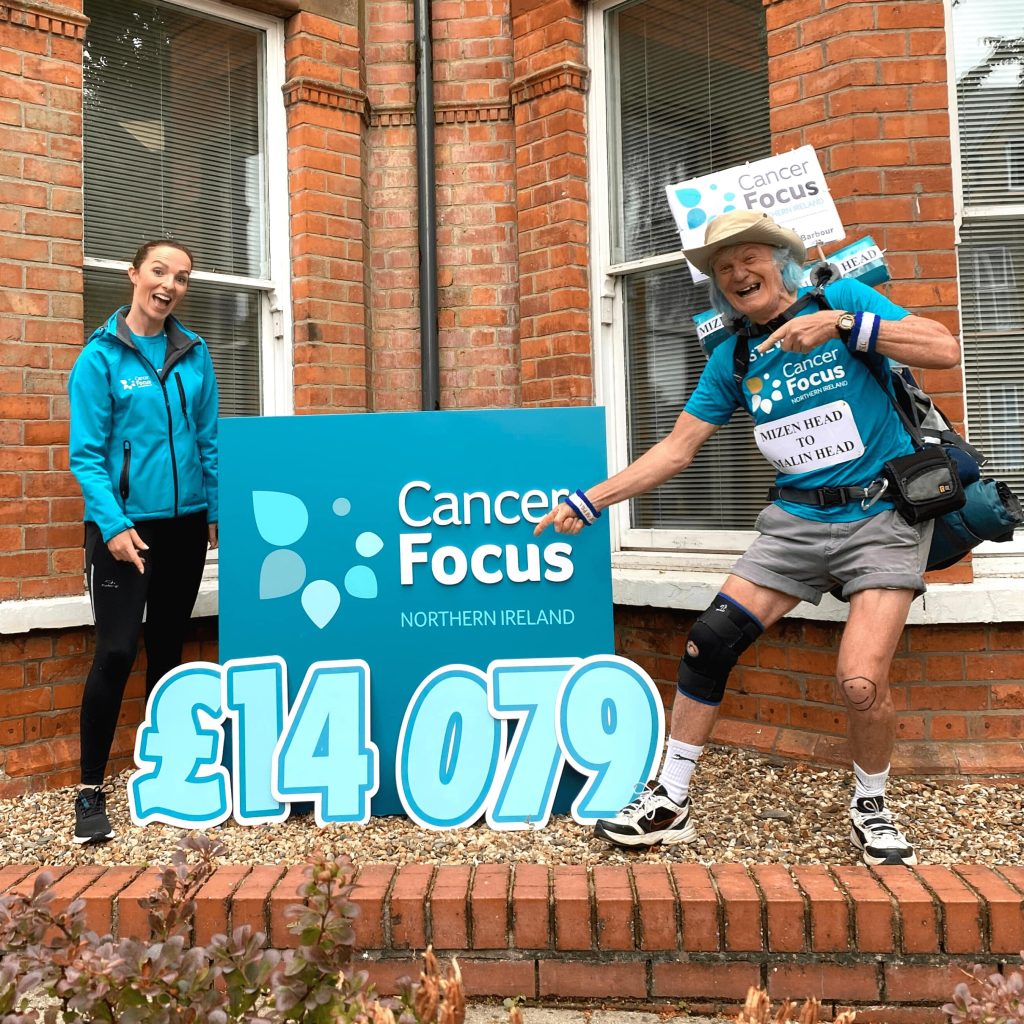 Kathryn Holland, Outdoor Events Manager, Cancer Focus NI said
"Cancer Focus is so lucky to have a fundraising ambassador like Stewart, he has raised a phenomenal amount of money for the charity through innovative and tough challenges including walking the length and breadth of Ireland and running 5 Belfast City Marathons, and 4 Half Marathons and he does it all with a smile on his face." 
Kathryn continued: "Every penny Stewart has raised will stay in Northern Ireland and will make a huge difference to local families who are living with cancer and avail of our vital support services. These services include counselling, family support, specialist bra fitting, art therapy and a patient driving service.  The charity offers a range of health improvement services including the Keeping Well vans, stop smoking service, schools' programmes and skin cancer prevention work, and also funds local pioneering research at Queen's University Belfast."   
If you are interested in fundraising for cancer focus, visit https://cancerfocusni.org/fundraising for more information or call or email our fundraising team on 028 9066 3281 or fundraising@cancerfocusni.org