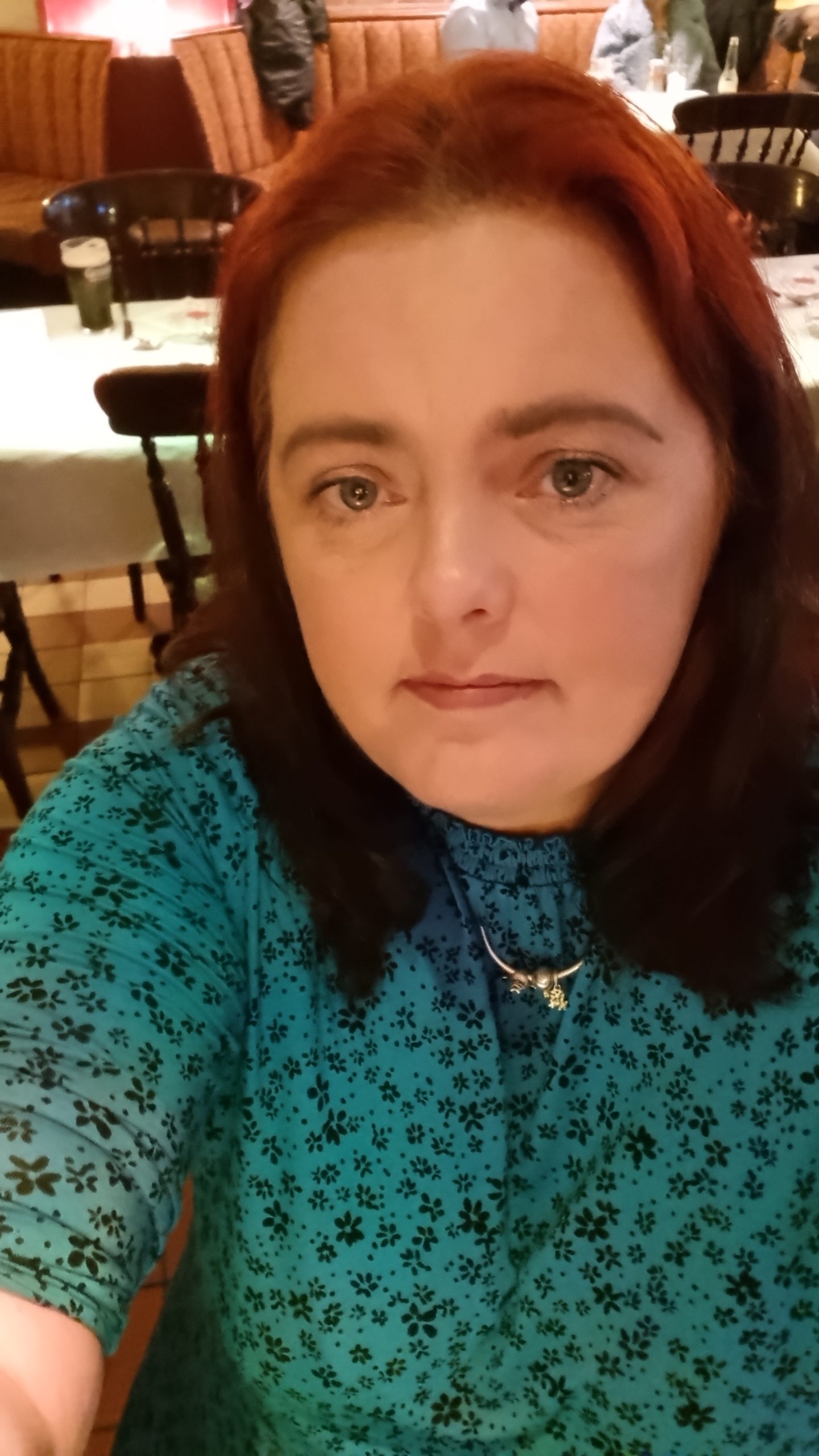 Mandy Dunseith quit smoking and

has since reduced her breathing tablets to

one

tablet a day and

now only uses one

inhaler

per m

onth.
North Belfast woman, Mandy Dunseith (45) visited her doctor's surgery last October after making the decision she wanted to stop smoking. After a difficult couple of years with lockdowns, isolation, and a few personal hardships on the way, with help from Cancer Focus Northern Ireland Mandy stopped smoking for good In November last year.  
Mandy visited her doctor last October and as a result of her visit, her doctor put her in contact with one of Cancer Focus NI's cessation nurses, Sharon.  
Mandy was diagnosed with borderline chronic obstructive pulmonary disease (COPD): "I was struggling to breathe doing the smallest task like getting dressed or walking to the car."  
After experiencing personal loss of other family members because of this disease, Mandy made the decision to quit smoking. She said, "I was on breathing tablets twice daily, a strong steroid inhaler and was going through a Ventolin inhaler weekly. At the age of 44 at the time, I was in a bad place mentally and physically, something had to give."  
After smoking around 40 cigarettes a day, Mandy didn't believe that she would be able to stop smoking, nor did her daughter, parents, or husband. She first decided to cut down on the number of cigarettes she was smoking. "I think this attitude ensured I didn't put too much pressure on myself, and although I aimed to cut down, my end goal was to stop."  
For Mandy the first week was easy, cutting down from 40 cigarettes a day to 12. The following week, she was able to reduce this even further to just four cigarettes day. When the third week arrived she discovered that she didn't need to smoke, "And when I did light up, it made me feel nauseated. The taste changed and became much stronger, and began to leave an aftertaste in my mouth."  
Mandy continued, "I was then off the cigarettes for one week and began to feel very proud of myself. Sharon phoned every week and I looked forward to telling her how well I had done.  There were a few times I really felt like I wanted a smoke but talking to Sharon made me realise it was just a habit, and I needed something to replace that. 
"I started training my dog to fetch, speak, howl, and do agility. When I wanted a smoke, I went to the back garden and set things up for dog training."  
Sharon remained in contact with Mandy having a phone call once a week to check in, also reassuring her she could call her at any time if she needed to. Mandy said, "I didn't need to, but knowing I could, made such a difference. Sharon's upbeat attitude and realistic approach to stopping made it much easier. She didn't pressure on me. It just all fell into place." 
Mandy has experienced many changes since she stopped smoking. She is now at the gym a few times a week, something she never thought she would be able to do due to her breathing issues. She has since lost a stone and is also at Slimming World. She has reduced her breathing tablets to one tablet a day and now only uses one inhaler per month. Mandy said, "I don't need to carry my inhaler to the top of the stairs anymore. In fact, I hardly even take it out with me now unless I'll be gone for few hours. I'm delighted with the new me." 
Mandy continued, "My smell is back. I smell smoke from miles away and it's vile. Whoever would have thought I would be calling smoking 'vile'! My smell and tolerance is continuously changing. My taste has only just come back. And as I'm now able to breath I'm wanting to do more outdoor things. My advice to anyone out there who wants to stop smoking – you can do it. If I can, anyone can. But I believe I was successful because of the stop smoking support that I got from Cancer Focus NI."