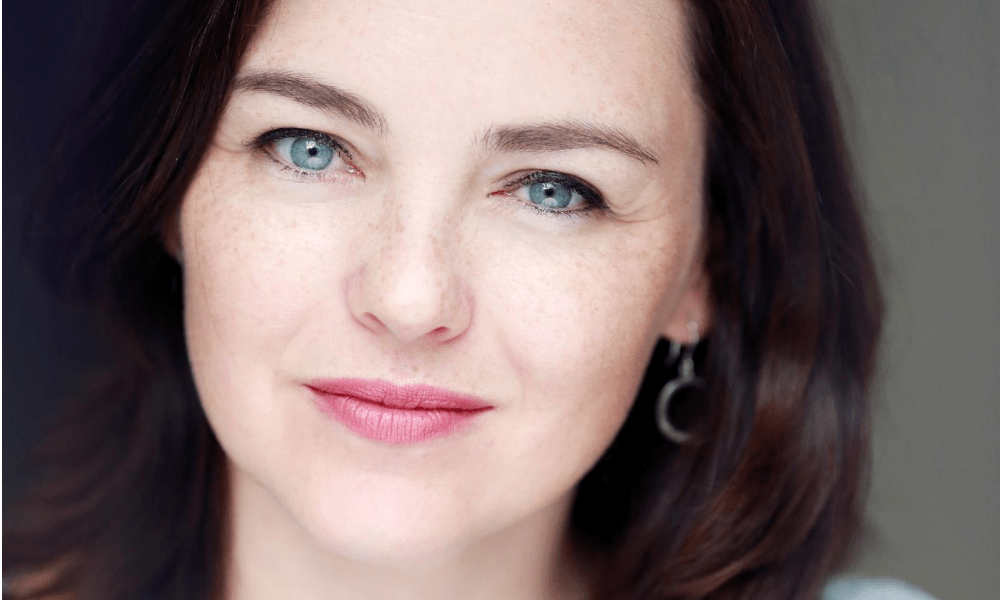 Actor and writer Melanie Clark Pullen is recovering from breast cancer and a double mastectomy.
The mum of three, who lives in Bangor with her husband Simon, was diagnosed in January 2019. She has the BRCA 2 mutant gene which dramatically increases the chance of breast and ovarian cancer.
Melanie has used our art therapy service to help her heal emotionally after her surgery and is backing Cancer Focus NI's plan to start a special support group particularly for younger women with breast cancer. She says it's so important to have friends to rally around when you need them most and that by taking part in our Support Your Girls fundraiser, you'll be helping local women at an extremely tough time of their lives.
My Waterbabes
My last round of chemotherapy coincided with the week we'd booked a holiday at Crom Estate in Fermanagh. I was weak, in pain and pretty traumatised after the PICC line I'd had to administer the drugs intravenously proved tricky to remove. It had been 8 months since my diagnosis of Grade 3 Ductal Carcinoma (Breast cancer) and this week away by the lake was something I'd been looking forward to. Now I worried that I'd be too ill to enjoy any of it.
We arrived in the late afternoon and were let in to our cottage. The buildings were once the homes of the people who worked at the Big House or on the estate. What once were houses, storage rooms, stables and pig pens had been transformed into beautiful self catering cottages, a cafe, shop and small museum. The Pig pens became 'glamping' pods each one named after famous literary hogs.
The first thing I did when we'd unpacked the car was put on my swim suit and march down to the water. I waded in, the cold shocking its way up my body and then plunged all the way in before I could talk myself out of it. Pure bliss.
Cold water therapy
I'd been introduced to cold water swimming years previously when I lived in Co. Wicklow but it was only when I moved to Northern Ireland and met Lyn Magill (@pickingupthepieces) and she invited me to go sea swimming with her and her friends that I'd got into it in a big way. Lyn had had breast cancer and sea swimming was her 'therapy' once all her treatment was over, she told me. Half the benefit was the camaraderie and craic of being in a group of other middle aged female 'nutters'.
She invited me along and I started to get to know these fabulous women who swam year-round in the Irish sea. I was added to the WhatsApp group and began to look forward to my regular dips. And then, in January 2019, I was diagnosed with cancer.
Strong support
I barely knew these women but they rallied around me like I was already one of them. I swam with them when I could, each of them encouraging me to let go my anxieties into the salty sea and then making me laugh with some outrageous joke. Their motto was 'what's said in the sea, stays in the sea' and so many of our worries and concerns were dealt with and let go of.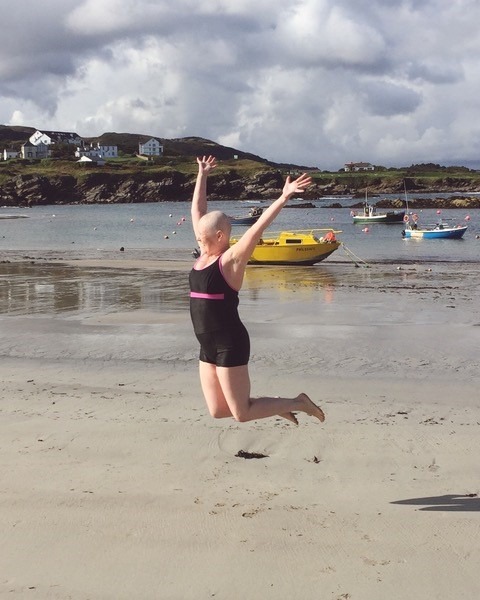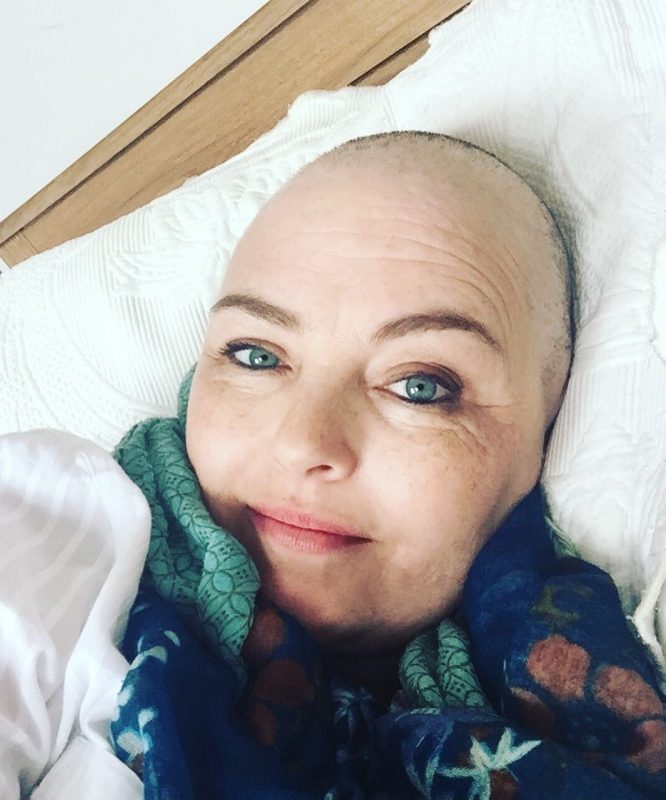 When I couldn't swim because of my PICC line (it's not advised to get the line wet because you could get infected) they kept me going with their silly banter, naughty jokes and hilarious videos on the WhatsApp group. I was now one of the Waterbabes and I was presented with a hoodie and bobble hat with the logo on it. To say that those women got me through one of the worst years of my life is an understatement.
A gift from God
Having Lyn, who'd been through the whole thing a few years previously, right there beside me was a gift from God. While her specific journey was different, as everyone's is, I was so grateful for all the common sense advice she gave me. She was able to tell me things that a nurse or doctor wouldn't think to mention – like how when you lose your hair, you lose ALL your hair, EVERYWHERE! Like how wigs are great for throwing across a room when you're fed up.
As women, we're conditioned to hide away our bodies, not talk about our bits and bobs and how they are or if they're not working right. Perhaps there's something about reaching a certain age when you just get less worried about being 'proper' and more invested in being real.
Being in the sea with the Waterbabes often means conversations about our bodies, our love lives, our work concerns that wouldn't necessarily be had anywhere else. Having a group of girls to be real with is one of the greatest gifts of my life and I only wish I'd known them all years ago.
My tribe
I texted a photo of myself in the water at Crom to my Waterbabes group and they all replied with celebratory emojis and cheering words. They were my tribe. They'd got me through the first half of my treatment, they'd get me through the next bit. They supported their girl. I am so grateful for them!