Men urged to 'Restore the Balance'
Cancer Focus Northern Ireland is encouraging local men to use 2020's International Men's Health Week (MHW) (June 15-21) to do something practical to improve their health.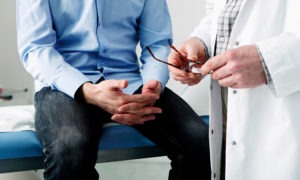 After the many difficulties thrown up by months of lockdown, the MHW theme is 'Restoring the Balance', to help men re-build their lives.
Cancer Focus NI is calling on men to spread the word and help improve the health of other men and boys.
The charity's head of cancer prevention Gerry McElwee said: "We are all going through a very testing time and many of us may have fallen out of our normal routines and habits. As we gradually come out of lockdown, we have an opportunity to take action and re-build our lives, relationships, jobs, finance and, of course, our health.
"We encourage men and boys to take this time of change to make healthier lifestyle choices, to become more aware of preventable health problems, and to seek early detection and treatment if they have any concerns."
The overarching aims of MHW are to raise awareness of preventable health problems for males of all ages; support men and boys to engage in healthier lifestyle choices and activities; and to encourage the early detection and treatment of health problems.
"Cancer has a major impact on the health of men in Northern Ireland with around 6,840 diagnosed with the disease each year – but more and more men are surviving and thriving.
"Our message is positive – almost 50% of all cancers can be prevented with a healthy lifestyle choices and seeking appropriate support," Gerry said.
"There are some simple guidelines that everyone can follow – keep to a healthy weight, eat healthily, be active, take care in the sun, limit alcohol and don't smoke. It's never too late to start incorporating simple but healthy steps into your daily life.
"And if you can persuade some of your friends to get involved in a group effort – perhaps going for regular socially-distanced walks or a competition to lose a few pounds – all the better."
He added: "Get unexplained changes in your body checked out by your doctor and men over 60 should take up free NHS bowel screening when offered. And remember, seeing a doctor in good time can have a hugely positive impact on your health."
To find out more about healthier choices visit www.cancerfocusni.org/cancerprevention.
If you would like to make a donation to the charity's emergency appeal for funds, visit www.cancerfocusni.org/appeal, text FOCUS to 70660 to donate £5 or text FOCUS £10 to 70660 to donate £10.