Call for urgent action on HPV vaccine for NI boys
The urgent need to introduce the human papilloma virus (HPV) vaccine for local boys was highlighted today (Wed 7th Nov) at the annual Cancer Focus Northern Ireland Men's Health Conference.
Unless an implementation plan for the vaccine's roll out is made available soon there is a danger that boys in Northern Ireland will be left at risk, it was claimed.
Health professionals from all over Northern Ireland attended the conference in Antrim which focused on the theme of inequality for men and boys.
Guest speaker Dr Gillian Prue, from Queen's University Belfast (QUB), said she was concerned that no announcement had been made as to whether local boys will receive the HPV vaccine.
Cancer Focus NI has already urged the Department of Health at Stormont to provide clarity on whether or not funding will be made available to ensure boys here will benefit from the vaccine along with those in the rest of the UK.
Dr Prue said: "HPV is a very common sexually transmitted infection that can cause a range of cancers (cervical, vaginal, vulvar, penile, anal, and oral) as well as genital warts. There has already been a vaccination programme for 12/13 year old girls here since 2008.The Joint Committee on Vaccination and Immunisation recommended in July that boys as well as girls should receive this vaccine to ensure that both sexes are protected against the cancers and other diseases caused by HPV.
"By the end of July, it was confirmed that boys in England, Scotland and Wales would be vaccinated and work on implementation is now underway in those regions. It is expected that these boys will start to be vaccinated from September next year. We are also expecting confirmation that Ireland will decide to vaccinate boys in the near future."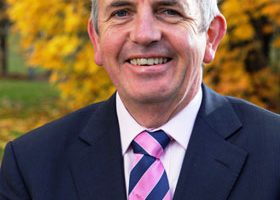 Gerry McElwee, Head of Cancer Prevention, Cancer Focus NI, said: "There is clearly a very real danger that boys in Northern Ireland will be left behind – and therefore remain at risk of potentially life-threatening diseases. The Department should consider using new powers recently legislated for at Westminster to ensure local boys are not disadvantaged, as it is a decision that sits squarely in the public interest.
"There's an urgent need for an implementation plan to enable the roll out of a vaccination programme for local boys by next September. This should include a catch-up programme for boys which parallels that available for girls and vaccine uptake."
Dr Gerry McKenna, Chair of the British Dental Association NI (BDA NI) Hospital Group and QUB, said: "We've seen a rise in the number of mouth and throat cancer cases in recent years and the number of cases looks set to double by 2035. Major risk factors of mouth cancer are tobacco use and drinking alcohol and a number are related to HPV exposure – cases which would be easily prevented by the introduction of this important vaccine to boys.
"We stress that early diagnosis can really make the difference. So check your mouth regularly and make sure you visit a dentist regularly as dentists are trained to diagnose diseases of the mouth including oral cancer."
Cancer Focus NI and its partners, QUB, Men's Health Forum Ireland, BDA NI and the HPV Coalition have written to the Department of Health and political representatives stressing that a girls-only vaccination programme is inequitable and demanding urgent action.
Other speakers at the conference included Professor Joe O'Sullivan, Belfast City Hospital, who gave an update on prostate cancer research: improving lives and lifestyles. Barry Rooney, from the South East Trust, addressed the conference about the work being done at HMP Maghaberry, Sandra Gordon from Cancer Focus NI and Paul Thompson Probation Board NI (PBNI) spoke on the PBNI Lifestyle project and Maresa McGettigan, from Cancer Focus NI on The Big Lottery Fund (BLF) Well Aware project for the over 60s.