Big-hearted Carol McAdam and her lovely daughter Joanna share a very close bond – and a deep desire to help other people.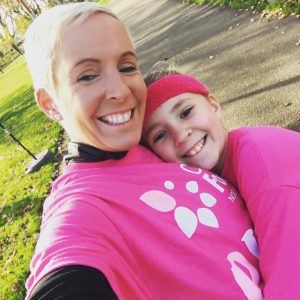 Carol's husband Jim works abroad for much of the year. When he's away, the pair spend a lot of time with each other and Mum admits she couldn't do without her 11-year-old daughter for company.
Quality time
And one way in which the mother and daughter spend their quality time together is by volunteering and fundraising for their favourite charity, Cancer Focus Northern Ireland, particularly this year, the charity's 50th birthday.
These days, the pair can often be seen at Cancer Focus NI events shaking a collection tin or handing out awareness leaflets to passers-by. Carol has also run five marathons for the charity, London four times and Boston once. In fact, she has done 13 marathons altogether over the last 11 years and has raised a magnificent £15k for different charities.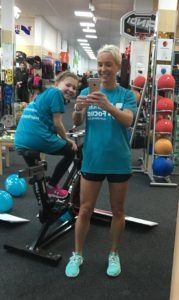 "A close family friend used to do a lot of fundraising for the Ulster Cancer Foundation, which is the old name for Cancer Focus NI, which is why I like to raise funds for them," she explained. "Sadly she passed away when I was doing my third marathon for the charity, which made that run a very emotional one.
"Also, my cousin Claire Williamson was diagnosed with breast cancer in 2015 and is running her first marathon for the charity in Belfast this year after she got so much from their art therapy service. Cancer Focus NI look after us so well, it's a pleasure to fundraise for them," she added.
Strictly for Kids
"Because Jim is away so much and my mum and mum-in-law are both in nursing homes, Joanna comes pretty much everywhere with me and I would be lost without her.
"I've done so many coffee mornings at her primary school. Joanna took part in the Cancer Focus Strictly for Kids. She's energetic but it was a lot of hard work and commitment every Tuesday for nine weeks learning dances – all the children were all brilliant.
"We both took part in the Cancer Focus NI Dare to Dip at Crawfordsburn beach on New Year's Day last year. We've done a Night at the Races and organised a charity auction, all kinds of things."
Carol continued: "My poor child, I've dragged her along to everything, but it's become part of our life. Fundraising can sometimes involve standing in the cold and wet with a collection box, which not many children would do. But Joanna loves it, she never complains.
Cheerful and smiling
"She's always so cheerful and smiling. She's a wee chatty thing too and loves meeting new people. She is a very generous girl and I'm very proud of her.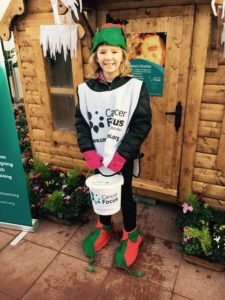 "It's good for children to help others and I hope I'm a good role model for her. I can get quite anxious before a marathon but she's laid-back and keeps me sane.  I think she's quietly chuffed that I'm a marathon runner.
"Mother's Day is one of those special days when I like to tell Joanna how much I love her and how I couldn't do without her," said Carol.
Cancer Focus NI has been caring for local cancer patients and their families for 50 years and also provides a wide range of cancer prevention services, funds research and advocates for better health policy. Anyone who would like find out more can call 028 9066 3281, email hello@cancerfocusni.org or visit www.cancerfocusni.org.