Need help with your cancer journey?
When someone is diagnosed with cancer, they may experience feelings of shock, anger, or confusion. Even the most supportive family members, friends, or employers cannot understand exactly how it feels to go through a cancer journey.
Counselling is one way for individuals to express their emotions. An opportunity to talk one-to-one in a safe, non-judgmental environment about what is important to you.
Click here to make a referral
What to expect?
Our Counselling Service takes place in a confidential non-judgmental environment.
Support provided:
• Making sense of the changes that happen after a diagnosis of cancer
• Processing thoughts and feelings that stop you from thinking clearly
• Dealing with sexual or body issues
• Reducing feelings of isolation
• Considering options and decision making
• Taking back control of your life
•  Coping to bereavement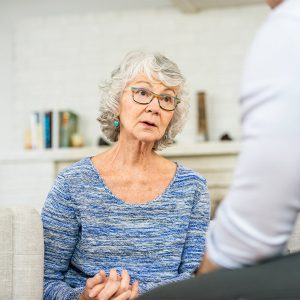 "The sessions were so important to my well being post surgery and through my chemo treatment. Given the speed with which everything moved from diagnosis, counselling was my first opportunity to process the enormity of this life changing event. I will be forever grateful for this help."

Former client
About the service
This service is delivered across Northern Ireland and is available to cancer patients and families.
We offer counselling in person, online or by the phone, provided by experienced and accredited counsellors.
How to access the service
Donations
It is thanks to generous donations that we can continue to deliver vital complimentary cancer support services to thousands of people and families each year.
We keep all donations local and invest 82pence in every £1 directly towards the delivery of our services.