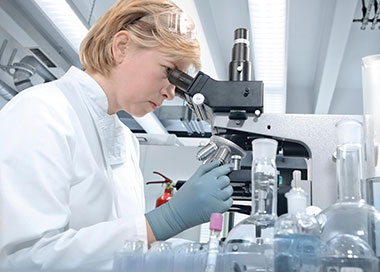 Cancer Focus NI has invested over £11m since we were established in 1969 (first as the Ulster Cancer Foundation) and are one of the major funders of cancer research in Northern Ireland.
All of the money invested in our funded research projects has been raised by the Northern Ireland community through donations and fundraising.  It wouldn't have been possible without you.
Some of our achievements
Highlights of our research work in the past include:
Jointly funding the formation of the Department of Oncology at Queen's University, Belfast (QUB)
Funding innovative research at the University of Ulster
Funding and setting up the Northern Ireland Cancer Registry, which collates data on the incidence of cancer in Northern Ireland and the outcomes for patients
Providing funding for research projects, clinical and scientific fellowships, lectureships and chairs
Funding social science research projects at University of Ulster which allowed us to more fully understand public awareness and attitudes to cancer
These major investments in local cancer research led to the development of the Northern Ireland Comprehensive Cancer Care Programme, which received the Queen's Diamond Jubilee Award for its excellence in patient care and research.
We are dedicated to continuing this pioneering work.
Our research milestones
1974: Jointly funded formation of the Department of Oncology at QUB. Over the next 15 years, Cancer Focus NI supported the Department by providing funding for medical fellowships
1982: Investment in research at the University of Ulster
1992: A Cancer Focus NI Endowment Fund was established at QUB to fund a Senior Lecturer Consultant in Oncology
1994: Establishment and part-funding of NI Cancer Registry (NICR). A joint report by NICR and Cancer Focus NI looked at local trends in melanoma and led to Northern Ireland's first strategy on melanoma
1996: QUB established the Cancer Focus NI named Chair of Oncology, with the late Vice-Chancellor of QUB Professor Patrick Johnston MD PhD FMedSci the first appointee
1997: Cancer Focus NI research laboratory was established at QUB
Work in the 2000s
Providing a grant to QUB to develop work on Chemokine Signalling
Funding of projects at the NI Cancer Registry to gather and evaluate data on the incidence of cancer in Northern Ireland including Barrett's Oesophagus as a precursor of malignancy (2001); Pancreatic Cancer (2005); establishment of a NI Polyp Register (2007), which was important prior to the introduction of the current NHS Bowel Screening Programme; and Why Cancer Patients Die in Hospital (2008).
The development of social science research projects at the University of Ulster into the public's knowledge of cancer and patients' experiences including Patients' Experiences of Day Hospital (2002); Knowledge and Attitudes to Cancer in Mid-Life (2005); Colorectal Cancer, Men and Nutrition (2008); and Supporting Men with Prostate Cancer (2010).
Previously funded projects
QUB Centre for Cancer Research and Cell Biology
Programme Grant – Chemokine signalling
Lead researcher: Dr David Waugh
Northern Ireland Cancer Registry
Development of a NI Colorectal Polyp Register
Lead Researcher: Dr Helen Coleman
Colorectal cancer risk following polyp removal
Lead researcher: Dr Helen Coleman. Read the report here
University of Ulster
Developing and evaluating a self-management psychosocial intervention for men with prostate cancer and their partners
Lead Researcher: Dr Eilis McCaughan
Investigating the actual and potential role of the general practitioner, practice nurse and nurse practitioner in the prevention of cancer
Lead researcher: Dr Sinead Keeney. Download the report and executive summary.
If you want to find out more about Cancer Focus NI's research, please contact Julie on 028 9068 0744 or email  juliemcconville@cancerfocusni.org.