Smoking in cars with children illegal from 1 February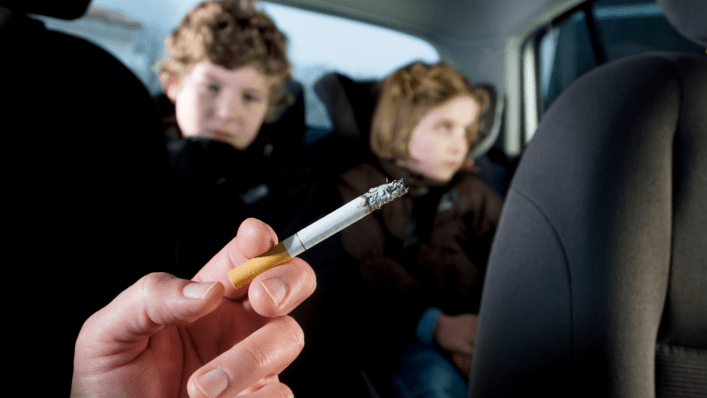 Cancer Focus Northern Ireland has welcomed the news that from 1 February the long-awaited law to ban smoking in cars carrying children will come into force.    
From 1 February, the regulations will extend current smoke-free provisions to private vehicles where children are present, when there is more than one person in the vehicle, and the vehicle is enclosed. It will be an offence to smoke in such a vehicle and will also be an offence for a driver to fail to prevent smoking in a smoke-free private vehicle. 
Naomi Thompson, Health Improvement Manager at Cancer Focus NI said: "This is a significant move to a tobacco-free Northern Ireland. We know that children who regularly see adults smoke are more likely to try smoking so we firmly believe that these new laws could help protect children's health and reduce their perception that smoking is normal behaviour. We have already protected adults in workplaces and public places from second-hand smoke and it's high time we gave our young people the same protection."  
Northern Ireland is the last region in the UK to make this move. England and Wales implemented the ban in 2015, and Scotland and the Republic of Ireland in 2016.   
Legislation to ban the sale of e-cigarettes to under 18s will also come into effect from 1 February, mirroring current offences relating to tobacco sales. 
Ms Thompson continued: "These new laws, and all of the tobacco control measures and initiatives we have campaigned for over the years, will make a real impact on smoking rates in Northern Ireland, and protect and improve the health of our under 18s.  
"There's no question that great work has been done, but there is still much more to do.  In the near future, we would also like to see smoking stubbed out wherever children play or learn including playgrounds, public parks and theme parks. As most smokers start while they are still children, it is vital that we can take every step possible to try and protect yet another generation from this deadly product."  
Cancer Focus NI has advocated on tobacco issues for more than 50 years and has campaigned successfully for significant changes in public policy aimed at preventing young people from taking up smoking. These include banning sales of tobacco from vending machines; introducing a ban on the display of tobacco products in shops; tougher sanctions against retailers who sell tobacco to children and young people under the legal age; standardised packaging; and a ban on the sale of cigarettes in packs of ten.  
Ms Thompson added: "There are 2,300 deaths caused by tobacco in Northern Ireland each year with thousands more affected by cancer, respiratory and other smoking related illnesses. The very best thing people could do to improve their health is to stop smoking.  If you need help to quit, Cancer Focus NI's free, award-winning Stop Smoking service, funded by the Public Health Agency, is available via GP practices, health and wellbeing centres, community, workplace and youth settings."  
For more information on Cancer Focus NI's Stop Smoking support services visit www.cancerfocusni.org/smoking.