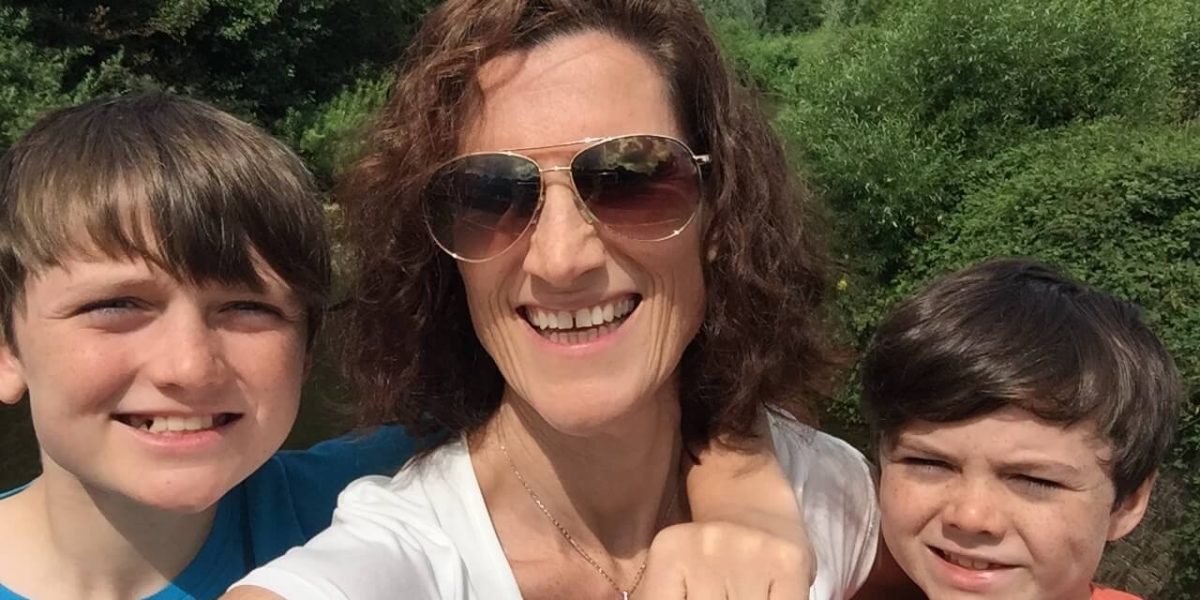 Stay alert for bowel cancer
Jill Pearson (48) was diagnosed with bowel cancer ten years ago. She has two sons, Harvey (14) and Jacob (12). As part of Bowel Cancer month in April, she is backing the charity's call for everyone to take up screening when they receive their test from the NHS. Jill says:
 "I've never talked publicly like this about my cancer before – it was all too sensitive – but now that the children are a bit older and it is behind me, I feel I can speak out. There was perhaps an in-built fear that talking about it would acknowledge that it actually happened, whereas if I avoided talking about it, I could somehow imagine it never really happened! But the further it's behind me, the more relaxed I feel about it.
I'm originally from Randalstown but our family was living in Hong Kong (we moved about with my husband's job) when I first realised something was wrong. I was having trouble going to the toilet but put it down to the fact that I was just tired as I had two young children. Jacob was only a baby and we'd moved house so it was a stressful time. I just put up with it and got on with it.
Doctor was spot on
I also had a throat infection and had been taking antibiotics, and the doctor thought I might be having a reaction to the drugs. He said please return if it didn't improve as it could be colon cancer. I thought he was being preposterous. As it turned out he was absolutely spot on.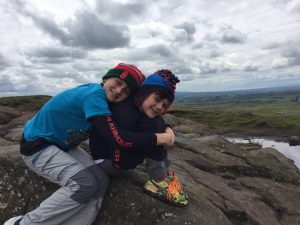 We moved to Prague and I began having more bother passing stools but thought it may be Irritable Bowel Syndrome which I'd suffered from when I was younger. I just thought after all the typical stresses of moving houses/countries were over that it would settle down.
I didn't for a moment think it was anything sinister. I was never in pain – there just seemed to be a blockage in my bowel at times, which turned out to be the tumour growing.
Busy life
I began having more and more trouble and thought I might have diverticulitis or colitis. By then I had started a teaching job, so I was very busy. Three months later I went to a doctor in Prague who sent me for an endoscopy and that is when the tumour was discovered. That was over eight years ago, I was 38.
The Czechs send you for every test under the sun before they treat you and that's what saved me. They initially staged my cancer as stage 2a – very worrying – but there were no metastases, which was fantastic.
Initially, therapy was a combination of external irradiation of the pelvic region, in combination with oral chemotherapy. I didn't know at the time that I had a rare enzyme deficiency which prevented me from breaking down the chemotherapy, so I became very ill. I spent a month recovering in hospital in Prague and it was a mystery to the doctors and myself why I had reacted so badly.
Operation went well
When I did get the operation the cancer was restaged as grade 3a. While the cancer did go into the lymph nodes it was only in one or two and the tumour had only grown into the muscle layer and not the outer lining of the bowel wall. The surgeon was able to do a very clean procedure to take out the whole tumour and he was very pleased with the way the operation had gone. I was supposed to have a colostomy bag but luckily I had enough of the rectal passage left to avoid that.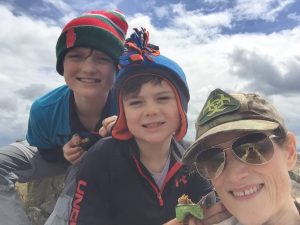 After surgery, I began adjuvant chemotherapy treatment in May 2009 when again I became very ill. I came home to Northern Ireland where my extended family could support me better and it was through the consultant at Belfast City Hospital that the enzyme deficiency was finally explored and confirmed and my treatment was modified. He liaised with my doctors in Prague so that I could have some of my treatment at Belfast City Hospital and some in Prague. I was so fortunate to be able to do that.
I couldn't have managed through it all without my family. I was very fortunate to have a huge support network. My mother-in-law helped to look after the boys during my first week of treatment. My mum and dad then arrived and, supported by my aunt, they stayed with us in Prague throughout the majority of my treatment. My sister-in-law and cousin also came out to give them a break. My boys were so young – Jacob had just turned two and Harvey was coming four.
Family support
It made me think – what would people do if they didn't have that sort of support? Then I heard about the Cancer Focus NI family support service, I thought this would be a fabulous cause to raise money for by taking part in the charity's Strictly Come Dancing event, which takes place in May 2017.
I've made an amazing recovery and I'm very much enjoying life. Apart from a few small after-effects of the cancer and surgery, I'm back to normal and really haven't looked back.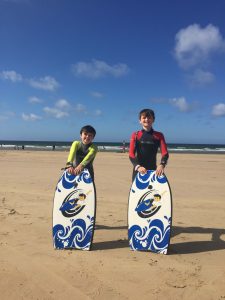 It's been tough at times though – I made the decision to move back home to Northern Ireland  last year and there have been a lot of changes, the vast majority of them good I am glad to say.
I am now starting my own business and the  children have adjusted very well. They have a lot of support and, as we spent a huge amount of time in Northern Ireland even when we were living abroad, this is very much home to them.
Go for screening
We also have a very strong faith. There have been a lot of prayers and I believe that has to have played a part in my recovery.
Now, in bowel cancer month, I'd like to re-enforce Cancer Focus NI's message to go for screening when it is offered to you.  In Northern Ireland anyone aged 60 to 74 who is registered with a doctor's surgery will be invited to take the test. It's really important to take the offer up as early detection means more successful treatment that can save your life."
If you have any concerns about cancer call the Cancer Focus NI free information and support NurseLine and speak to a specialist nurse on 0800 783 3339.