Tony quit smoking after 40 years
Tony Spence (54), a procurement manager from Belfast, is married to Martine and has a grown-up daughter. He started smoking when he was 14 in 1979. He used the Cancer Focus NI workplace stop smoking service last year and is smoke free at last.
He says:
"I started smoking because it was cool and I was a punk rocker and nobody told me what to do. Forty years later in 2019, I was getting out of breath, coughing and spluttering and could barely breathe after doing the simplest task such as walking to the bus stop 20 yards from my house.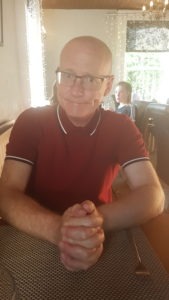 I spent £10 a day on a packet of cigarettes and my entire daily routine revolved around when, where and how I was going to smoke. I knew I'd be extremely ill, if not dead, by the time I get to 60.
Last autumn, the Cancer Focus NI team set up a stall in the lobby of 16 College Street where I work and on a whim I stopped to speak to them and to have the carbon monoxide in my breathing measured. I scored 27. Twenty-seven parts of what was hanging around my chest was composed of a poisonous gas. So I signed up there and then for the smoking cessation programme.
Excellent service
I thought it was excellent from the very beginning, particularly given that I hadn't had a smoke free day in 40 years and found the idea of stopping pretty terrifying. The initial presentation made things very clear as to the options available, the methods used and the entire psychology of smoking and how it was possible to break the addiction.
After the presentation each smoker was assigned a smoking cessation adviser to meet with on a weekly basis. Tina Fegan from Cancer Focus NI was a fantastic help and encouragement to me in leading up to the quitting date and was a great support in the weeks that followed.
Tailored to each person
The programme is tailored to what works for the individual, so the options are all agreed and planned out. If you want to try NRT (Nicotine Replacement Therapy) or perhaps the use of pharmaceuticals (Champix) then you can explore and find out what suits you best. Do you want to cut down or go cold turkey, what happens when you have cravings, how different situations affect you – this is all discussed with the advisor and their input is invaluable.
Quitting actually wasn't as bad as I thought it would be – my biggest fear was not being able to do it which was why I had put it off for so many years perhaps.
No one likes smoking
I would recommend the programme to anyone who wants to stop smoking. Not only might it add years onto your life, but it teaches you a lot about the nature of addiction and the behaviour of addicts, which is what smokers are. Everybody, especially younger smokers, think they love smoking and can quit when they like. They don't and they can't.
My carbon monoxide level is now 2 and I have £550 more in my pocket. I can breathe. I can walk. I can lift things. Some people tell me I look great. My hair is growing back (that's only a joke but you get the idea). I have no intention of ever smoking again. I'm still a punk rocker and nobody tells me what to do."