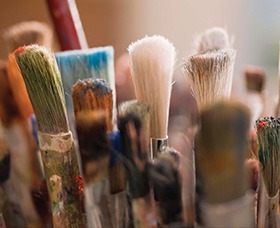 Why Art Therapy's Good For You…
Ever thought of trying art therapy during or after your cancer treatment?
Or do you know a cancer patient who might enjoy taking part?
Cancer Focus NI has places available for its Belfast group or for one-to-one sessions.
Art therapist Joanne Boal says: "Art therapy is not about being good at art or creating works of art. It's simply a way of helping you express how you feel when words don't come easily.
"It's relaxing and enjoyable and can give you a greater sense of well-being at a difficult time in your life."
Joanne adds: "Cancer can make people feel that they have lost control, it can increase feelings of isolation and lower a person's self-esteem. Research has shown that creating art can have a positive impact by helping the healing process – improving physical, mental and emotional well-being.
"For many patients this can lead to a better understanding of their illness and coming to terms with the disease and the future."
Bowel cancer survivor Glynis Bushe, from Antrim, has used the service. She says: "The Cancer Focus NI art therapy was excellent. A cancer diagnosis is devastating and life changing and although I talked frankly and openly to my family and friends, I found the safe confidential environment of the group a great help.  I was able to discuss my fears and worries with fellow cancer sufferers who understood exactly what I was going through.
"Art therapy helped me deal with stress, be more positive, improve my mood, get back on track and to get out of this 'in limbo' feeling.
"The nurturing and guidance I received from Joanne was absolutely terrific. I can't stress enough the importance of having that extra support in place for when cancer treatment ends. It truly was a lifeline."
The sessions are confidential and take place in a safe and caring environment. All materials are provided, free of charge, and you can use a variety of mediums such as paints, pastels, pencils or clay. For more information email care@cancerfocusni.org, call 028 9066 3281 or visit www.cancerfocusni.org.
If you are worried about any aspect of cancer, please call our Information and Support NurseLine on 0800 783 3339.