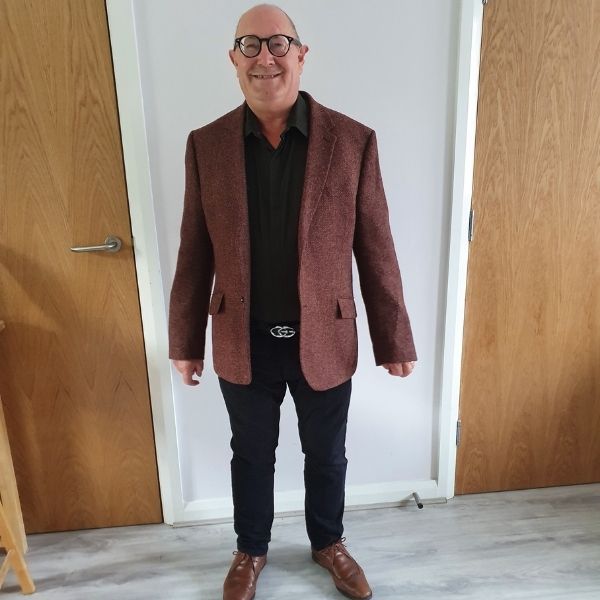 Aidan Murray quit smoking, walks 10k every morning and now cycles 40k before 10am dropping from 19st to 13st 11lbs.
I started smoking when I was 17 and smoked until 14 November 1987.  I went cold turkey and it was hard. I was a young man then, only 27. In 2002, I was badly injured in an assault – my ear was bitten off and I was partially blinded. I was in the Ulster Hospital for eight days and then I was transferred to the psychiatric unit at the Mater Hospital for three weeks. I found myself unemployed – I'd been a taxi driver and couldn't drive anymore – and homeless, so I was put up in a hostel and I started smoking again.  
I got a permanent job in 2007, so I was off the smokes again. Then in 2019, I took a cigarette when I was on holiday. I thought I would give them up when we got home. Boy was I wrong.  
I tried and tried but couldn't stop, it was hard this time. Then lockdown came and I was now on furlough. So I'm at home 24/7 smoking and drinking more, on the road to an early grave.  
Stopped Smoking
I got on the phone and call the doctor and she gave me some patches. One day after ordering patches the pharmacist from the doctor's rang me and asked if I would like to talk to someone from the stop smoking clinic. I agreed. Then a week later Tina from Cancer Focus NI rang me.  
Tina was great, so pleasant and really encouraging me to stop smoking. She rang me every week – she was a huge help, giving me lots of tips and support. She stuck with me until I stopped.  I tried and I tried and I kept going and on the 7 July 2020 I smoked my last cigarette. I took my last drink on the 30 July 2020.   
Then, on the 1 August 2020, I started going out for a walk, not too far to start with, slowly building up and was walking 10k every morning. At the moment I can't walk so I got an exercise bike. I do 40k before 10am. I've gone from 19st to 13st 11 lbs. If you're sitting there saying I can't stop, believe me you can, everyone can. Just say to yourself I can do it. It's not easy but keep trying and you will succeed. Don't give up on giving up.