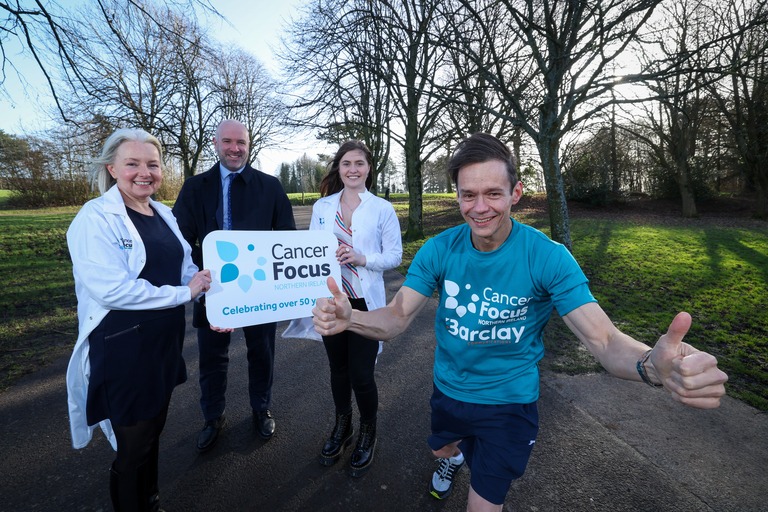 Barclay Communications launches new charity partnership with Cancer Focus NI
NI telecoms firm, Barclay Communications has announced a new charity partnership with Cancer Focus NI in a bid to drive funding for those affected by the life-changing illness.
Britt Megahey, Founder and Managing Director of Belfast-based Barclay Communications has pledged to support the charity throughout 2023 after a member of staff at the firm availed of the patient support services provided by Cancer Focus NI.
The local charity, which offers services to local cancer patients in Northern Ireland, has been instrumental for over 50 years in reducing the devasting impact of cancer on both patients and their families. As well as supporting patients, the charity offers services including cancer prevention programmes to help people lessen their risk of getting cancer, as well as funding scientific research into the causes and treatment of the disease.
The initiative was brought to fruition when an employee of Barclay Communication's, Alejandro Segura-Martyniuk, shared his experience with the cancer charity and the support it offered him and his family during a very difficult and uncertain time.
In 2020 Alejandro was diagnosed with a type of tongue cancer called Squamous Cell Carcinoma, which accounts for 9 out of 10 cases of mouth cancer. Around 8,300 people are diagnosed with mouth cancer each year in the UK, which is approximately 1 in every 50 cancers diagnosed.
Speaking about the services provided by the NI charity, Alejandro said, "The services provided are very beneficial for the patient, the caregiver, and the family. When a person is diagnosed with cancer, it affects more than just the individual. The reality is that the entire family feels the impact.
"Cancer Focus NI has helped to alleviate and handle the pressure put on everyone. Nurse Line has helped us to answer any questions we have and deal with financial concerns. The family support service has helped us to navigate the difficult situation of explaining to younger members of the family and provided coping strategies for the disruption this type of illness brings.
"There are many more services and what has been most beneficial to me has been the recovery process. As well as the actual medical treatment received, the on-going support and guidance offered by Cancer Focus NI has been life changing. Thanks to charities like these, patients and families have a better journey through this rough process."
Barclay Communications has been assisting Alejandro throughout his cancer diagnosis, treatment, and aftercare. Britt Megahey says, "We have seen first-hand how the work of Cancer Focus NI has helped Alejandro and his family. The charity has been instrumental in supporting him, whether that be through counselling to help him adjust, delivering important information or just being an ear to listen at times.
"Alejandro has been a part of Barclay's for over 10 years and is a deeply valued member of the team We are delighted to hear that he has received a "clear" diagnosis and is on the way to remission. Having seen the impact of such a life-changing disease and how Cancer Focus NI provide much needed services to support people in Northern Ireland, we made the decision to nominate them as our charity partner of the year.
"As a Barclay Communications landline customer, we wanted to give back as much as we possibly could. Local charities rely heavily on our telecoms infrastructure to handle their patient's support services. It's imperative that advisors have a reliable system with the flexibility to grow if needed. The team at Barclay's have supplied and installed services at 12 Cancer Focus NI sites across Northern Ireland.
"We are heavily invested in giving back to the community. We will be launching some exciting initiatives for all our charity customers this year that will hopefully help towards their funding. Our staff are very much involved in fundraising with an internal committee to manage all activities. Money raised throughout 2023 will go towards research funding, facilities upkeep and continuing to offer free services to patients."
To help launch its fundraising initiatives, Barclay Communications has 21 employees taking part in the 2023 Mash Direct Belfast City Marathon. 20 people will make up 4 relay teams as well as one individual running the full 26.2-mile race. The teams have set a joint fundraising goal of £2,000 for the event.
1 in every 2 people will develop cancer in their lifetime and there are over 87,000 families living with cancer in Northern Ireland. Cancer Focus works across the whole of Northern Ireland, reaching over 83,00 people annually with their services. Last year the charity support over 3,900 smokers to quit and delivered over 15,400 community and workplace health checks and information sessions.
Chief Executive of Cancer Focus, Richard Spratt, says "We are delighted that Barclay Communications has chosen us as its charity of the year. Corporate partnerships play an integral part in our charity's fundraising and help us raise the vital funds needed to continue to deliver free services to people in Northern Ireland impacted by cancer. It is humbling to know that our charity was there for Alejandro and his family when they needed support and I look forward to meeting more of the team from Barclays throughout the year as they take part in a range of our fundraising events."
Cancer Focus needs to raise almost £4million each year to continue to deliver services to the local community. The charity relies heavily on the generosity of businesses, schools, and the public to help achieve its goal.
To learn more about becoming a Cancer Focus NI charity partner, email fundraising@cancerfocusni.org