David cycles FROG in memory of his parents
David McCann, from Martinstown, was one of the founders of FROG 14 years ago. The memory of his parents is the inspiration for his continued involvement, as well as the conviction he is helping others on their cancer journey. He has already completed the challenge eight times and is saddling up again this year.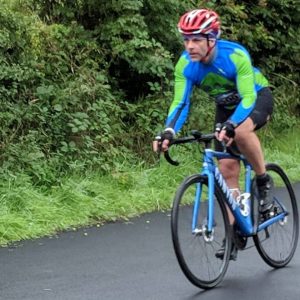 David, who works for Somerville in Moneyreagh, said: "I was with FROG at the very start. There were about half a dozen of us helping to organise it and I remember making sandwiches in my kitchen for the participants. Thankfully the catering has improved considerably since then.
"The inspiration for the FROG came about when a few of us had family bereavements including both the organiser Paul McToal's mother and my own mother.
In memory
The FROG provided an outlet for us to feel we were doing something in their memory while giving something back to the people who had helped us and our relatives in the difficult times. My father then succumbed to a brain tumour in 2006 which only reinforced that wish to help those going through a tough time, both physically and emotionally.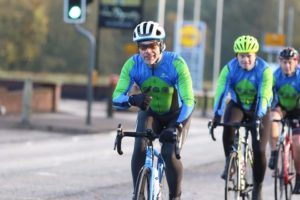 "Dad was really ill and we did a tour of many of the hospitals in the North for about a year. I have nothing but praise for all the health professional we encountered during that time. My father inspired me to keep on going and keep pushing forward.
"Since then, thanks to the hard work and dedication of Paul, FROG has evolved into the huge event that it is today with the money raised going to Cancer Focus NI to help with the good work that they do.
Fair-weather cyclist
"I cycle with our local Glenravel Cycling Group and I also sometimes go out with some of my work colleagues who are in the North Down Cycling Club. I cycle around 80-100 miles a week and would describe myself as a fair-weather cyclist, although the competitive urge is never too far from the surface.
"Cycling can be difficult the first few times you go out but you soon get in the grove and it becomes really enjoyable, almost addictive. For FROG you can take it easy and enjoy the scenery and take a break when you want to.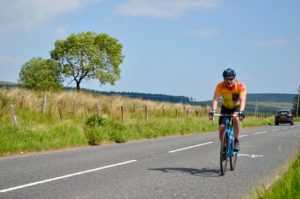 "I ask business contacts each year to sponsor FROG shirts and between that and donations, I raise around £1,000 annually. Everyone is very generous.
"I'd encourage all runners and cyclists to take part, there's something for all ages and abilities. You'll most definitely have a day to remember and you'll be helping Cancer Focus NI to support people with cancer and their families."