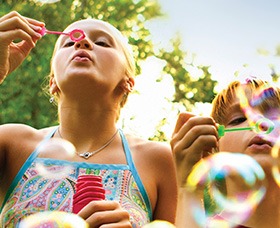 When an adult in a family has cancer it affects everyone. For children and young people this can be isolating and frightening. It can bring dramatic changes to their lives and can affect their experience of school, relationships and their ongoing development.
The Cancer Focus NI Family Support  Service helps families cope with the disruption to ordinary family life and minimises the long-term impact on children's emotional well-being when a mum, dad or close family member has cancer. Our Family Support worker will discuss your individual needs with you and will arrange whatever support is best for your family.
Due to the coronavirus our Family Support service will be running remotely (via phone or video calls, and private Facebook group) on a one-to-one and group basis at a somewhat reduced capacity.  The service is open to new referrals by contacting Family Support Manager rachelsmith@cancerfocusni.org.
The service offers:
One to one support via phone or video call
Phone support when you need advice or someone to talk to
CLIMB (Children's Lives Include Moments of Bravery) –

**suspended**

a six week programme for primary school aged children to help them understand cancer through art, craft and play. It helps them talk about their fears and gives them the chance to meet other children in the same situation. It also gives parents and carers time-out to meet.
Family Bereavement Groups support the whole family after the loss of a loved one. This includes group video chats via Zoom for the whole family, family days out 

**suspended** 

and children-only groups

**suspended**

.
The Journey video series is an online resource that helps parents or carers with cancer speak to their children about what lies ahead when the future looks uncertain. Access The Journey video resource here. 
Writing for the Future helps you leave a legacy in words or on film by recording your wishes, hopes and dreams for your loved ones.
For more information you can download our family support leaflet. If you want to know more about any of our services email our Family Support Manager at rachelsmith@cancerfocusni.org. To order some family support resources click here.
Read how our service helped Sinead Farry and her children here.
We need volunteers to help provide this service. Click here if you'd like more information about volunteering.