When an adult in a family has cancer it affects everyone.
For children and young people this can be isolating and frightening. It can bring dramatic changes to their lives and can affect their experience of school, relationships and their ongoing development.
The Cancer Focus NI Family Support  Service helps families cope with the disruption to ordinary family life and minimises the long-term impact on children's emotional well-being when a mum, dad or close family member has cancer.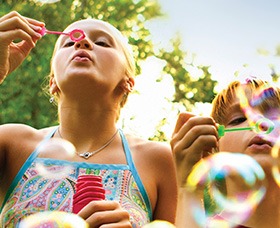 Our Family Support worker will discuss your individual needs with you and will arrange whatever support is best for your family.
The service offers:
One to one support either face-to-face, via phone or video call, whichever you prefer.
Phone support when you need advice or someone to talk to.
Bereavement Groups support the whole family after the loss of a loved one. This includes group video chats via Zoom for the whole family, family days out

 

and children-only groups.
Video Resources: We have created a series of short films to support and inform families and professionals.
Memory Work: offers pre-and post-bereavement support to leave a legacy in words, pictures or art, and to help families remember their loved ones.

For more information you can download our family support leaflet. If you want to know more about any of our services email gailcalwell@cancerfocusni.org
To download a referral form click here.
We need volunteers to help provide this service. Click here if you'd like more information about volunteering.