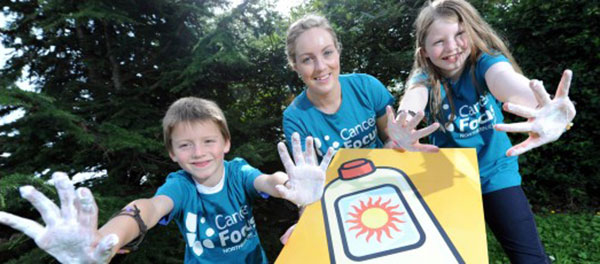 Staying safe in the sun is of great importance. Cancer Focus NI is keen to help increase sun awareness among local parents and children.
Over-exposure to ultra violet radiation (UVR) from the sun or sunbeds is the main cause of skin cancer.  Over-exposure can also cause sunburn and, in the long term, speeds up skin ageing. It's essential we protect the whole family from sun damage.
Top tips to staying safe in the sun:
Stay in the shade: Parents and children should spend time in the shade between 11am and 3pm when the sun is at its strongest
Babies: Babies under 6 months shouldn't be exposed to direct sunlight
Clothes: Lightweight materials with a close weave protect against UV rays
Hats: Children should wear hats when they're in the sun, preferably with a wide brim and a neck protector. Adults should also wear hats, especially men with thinning hair and women with fine hair
Sunglasses:Adults and children should wear sunglasses which have UV protection and the standardised safety mark to help stay safe in the sun
Sunscreens: Everyone needs to use a sunscreen of SPF 15 (sun protection factor) or higher. Also look out for a UVA star rating of 4 or more. Sunscreen should be applied 30min before going out in the sun and reapplied at least every 2 hours
Hydration: Make sure everyone drinks plenty of cool drinks, preferably water, to avoid dehydration
Other factors to consider:
Skin Type – Skin can vary from very fair to very dark. If you have fair skin, apply a higher factor sun cream.
Moles – Keep a close eye on any moles you or your family have. If you notice any change in the size, shape or colour, or if you develop any new ones, have them checked by your doctor.
Sunbeds – Sunbeds work by exposing the skin to UV radiation. Using sunbeds significantly increases your risk of getting melanoma particularly if you begin using them before the age 35.
Vitamin D – We need vitamin D in our bodies to be able to absorb calcium. Exposure of the face, forearms and hands to the sun for a few minutes each day (but less than the time it takes you to start going red or burn) is long enough for most of us to maintain sufficient vitamin D levels in our bodies.
For more information on staying safe in the sun, the dangers of over exposure and sun awareness information visit our Care in the Sun website