Our fantastic Community Fundraising groups and Friends give up their spare time to help raise vital funds for people living with cancer in Northern Ireland. We rely on them to help organise fundraising events and activities for us within their local community.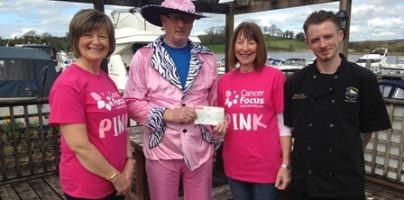 Our Community Fundraising groups are well structured, they meet regularly and are committed to organising a number of fundraising events throughout the year for Cancer Focus NI. Our Friends are individuals or groups of people that organise one or two events every year when it suits them.
As well as organising a variety of fundraising events, from coffee mornings, sponsored walks and bridge evenings to luncheons and collection days in their local towns, our group members also act as ambassadors, helping to spread the word about the work of Cancer Focus NI.
Groups are a wonderful way to come together, to meet old and new friends, develop new skills and share experiences while raising vital funds for us.
How we'll support you
You'll receive lots of advice and support from our fundraising team including: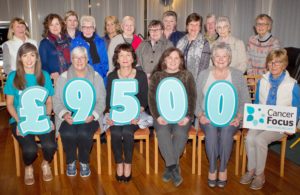 banners, balloons, leaflets and collection tins
advice on how to set up a variety of fundraising events
help with planning a calendar of events
practical advice about permits for street collections
advice on promoting your events in your community
Our Community Fundraising groups are based in:
Augher / Clogher
Claudy
Comber
Cookstown

 Enniskillen
 Holywood*
 Newtownbreda
 Newtownstewart
 Rathfriland
We're looking for people of all ages to get together and help us raise the funds we need to provide our life-changing services and to act as our champions, spreading the word about our work in your community.
Joining a Cancer Focus NI group is a fantastic, fun way to raise funds and awareness, meet new people, learn new skills and get the feel good factor from helping a great local charity.
If you think you'd be interested in joining one of our groups and would like to be kept informed about our upcoming events in your area, or would like some more information please contact Barbara Long on 028 9068 0746 or email barbaralong@cancerfocusni.org

Our Friends groups are based in:
Lurgan
Banbridge
Mid-Ards
Garvagh/Kilrea

Coleraine
Ballymena
Markethill
If you'd like to join one of our Community Fundraising or Friends groups or if you'd like to set up your own group, contact Barbara Long on 028 9068 0746 or rosieforsythe@cancerfocusni.org.