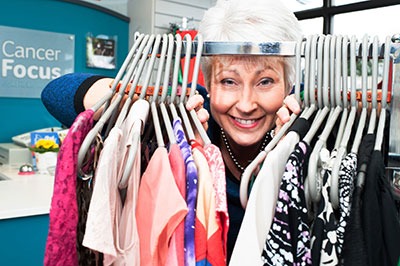 We have 12 shops across Northern Ireland that can help to recycle your unwanted goods into funds to support our vital services.
Opening Hours: Monday – Saturday, 10am – 4.30pm. 
Find out more about what we can and can't sell here. 
Volunteer at your local shop
Volunteers make a vital contribution to our work, bringing additional skills and knowledge. Our shop volunteers help with visual merchandising, window displays, point of sale and styling – a great opportunity to gain new skills and experience within the retail sector.  By donating a few hours per week you can make a real difference.
If you're interested contact your local shop manager or our volunteer team on volunteer@cancerfocusni.org or 028 9066 3281.
BANGOR                  

2-4 Market Street

Bangor BT20 4SP

Opening Hours: 10.00am – 4.30pm

COLERAINE

81 New Row

Coleraine BT52 1EJ

Opening Hours: 10.00am – 4.30pm

LIMAVADY

11 Connell Street

Limavady BT49 0DB

Opening Hours: 10.00am – 4.30pm

LISBURN

We are moving to:

41/43 Market Square South

Lisburn BT28 1AG

Opening Spring 2023

We have now ceased trading at 26 Market Square

NEWTOWNARDS

26 High Street

Newtownards BT23 7HZ

Opening Hours: 10.00am – 4.30pm

 

NEWTOWNSTEWART

36 Main Street

Newtownstewart BT78 4AA

Opening Hours: 10.00am – 4.30pm

HOLYWOOD

66-72 High Street

Holywood BT189HW

Opening Hours: 10.00am – 4.30pm

BANBRIDGE

42 Newry Street

Banbridge, BT 32 3HA
028 4062 4132

Opening Hours: 10.00am – 4.30pm

DERRY/LONDONDERRY

27  Shipquay Street,

Derry, BT48 6DL

Opening Hours: 10.00am – 4.30pm
BALLYHACKAMORE

374 Upper Newtownards Rd

Belfast BT4 3EY

Opening Hours: 10.00am – 4.30pm

ORMEAU ROAD

11 Ormeau Bakery

Belfast BT7 3GG

Opening Hours: 10.00am – 4.30pm

LISBURN ROAD

559 Lisburn Road

Belfast BT9 7GQ

Opening Hours: 10.00am – 4.30pm